I have been involved in photography as a hobby much of my life, starting in childhood with an old Kodak Pony 135 camera that was a gift from my dad. Ever since those days I have been fascinated by the beauty and wholeness of the natural world. Nature has always been a source of joy and wonder for me but I was unable to express these feelings to my satisfaction until I made a commitment to full-time professional study of the craft. I find it tremendously rewarding that I am now able to communicate this sense that I continue to experience in deeper ways with each new picture. (Well, at least when it's a good picture!) The results so far have given me the motivation to go on and further refine my skills.
For me color is an important part of the communication process. I have always been able to feel an emotional connection to a place through its colors. Black-and-white photography is something that I do to learn more about photographic technique, but I find working in color is the most fun. I am drawn to brilliant color and you'll find it in most of my images.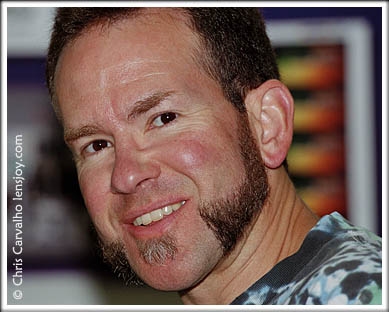 Chris at U-Develop/Digicraft in Portland, Oregon. Photo by Laura Tenny
I work at scales ranging from the grand landscape to the smallest of macro subjects. Regardless of the size of the subject I am devoted to capturing colors for my personal enjoyment as well as for my clients. An element of my style that is emerging as I create more images is a relaxing, meditative quality. I find photography of nature to be an antidote to the stresses of our modern world. This feeling comes through in my art.
On a more serious note I am concerned about the impact our activities have on the environment and that we as a species are both dependent on and indebted to nature for our success and continued enjoyment of life. By photographing and sharing the beauty of the outdoors I hope to build this awareness in others. It is my wish that more of the world's great places are preserved and that we learn ways of living that reduce our impact on the land. For this reason I donate five percent of all proceeds from the sale of images to The Nature Conservancy of Oregon for their excellent work and conservation philosophy which is much the same as mine.
One of my most heartfelt realizations from creating this web site is that viewing a body of work can be an intimate glimpse into the artistís soul. There is much more here than a record of places visited; I encourage you to look deeper and in that process understand something about my journey through nature and how it might connect with your own. For a moment you and I can walk together and see the world through my eyes. If you feel an impact from just one photograph, then my work has been worth it.
My desire is to reveal through color, form, and detail the hidden magnificence of the world around us. Because photography is a way to freeze a moment in time, we can learn much that nature has to tell us through an image capturing its beauty. I hope that my images inspire you to explore, enjoy, and preserve the natural world and that you feel an enhanced sense of awareness of how our actions affect these delicate creations.
Chris Carvalho