This is an archived article. Click here to return to the blog's home page.
Open Letter to Mt. Hood National Forest
Improved bridge needed to stop hiker deaths
Entry 8: August 22, 2014
Jen Wade
Recreation Manager
Mt. Hood National Forest Headquarters
16400 Champion Way
Sandy, Oregon 97055
Dear Ms. Wade:
I'm going to take some heat from the Forest Service for not sharing this letter privately. However, I've watched this situation evolve since I moved to Oregon in 1981 and hiked to Ramona Falls at least once a year, and I'm fed up. Public pressure is the only way to change it. On August 12, 2014 Brent A. Ludwig, a 34-year-old man visiting from New Lenox, Illinois, was crossing the Sandy River on the Ramona Falls trail during a severe thunderstorm that poured around an inch and a half of rain in less than an hour on the slopes of Mt. Hood above the trail's bridge, where he was crossing with a group of 19 others. A flash flood washed away the bridge, and he was carried to his death as his wife looked on. The day of Ludwig's death I was planning a hike on Mt. Hood, but canceled it when I checked weather radar and saw severe thunderstorm warnings on the mountain.
This isn't the first time. In August 2004 Sarah Bishop, who was a skilled hiker, died under similar conditions in another rainstorm.
The Ramona Falls trail is a popular hiking destination because it's close to Portland, relatively easy, and offers a great wilderness experience with a wild river, views of Mt. Hood, and an iconic waterfall.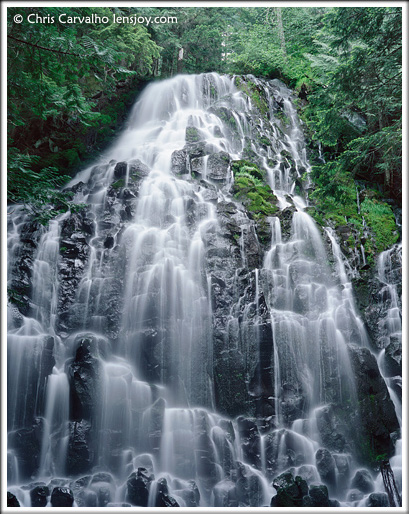 Thousands of people visit every year. It attracts a lot of photographers too. It also requires an expensive Northwest Forest Pass for trailhead parking. So visitors are providing funding for the Forest Service to maintain the trail, and keep tabs on safety. On most days it's a wonderful hike with an easy crossing of a temporary bridge that rangers install in the spring and remove in fall.
Long ago, there was a permanent bridge but the unstable conditions in the riverbed washed it away and the Forest Service decided on a temporary bridge to reduce costs. But things have changed. The popularity of the trail has grown since those days, and on many weekends the parking lot is near capacity. Climate change has also increased the severity and frequency of intense storms. Ramona Falls is talked up in most local hiking guides and websites as a top visitor destination. For that reason, it attracts many inexperienced hikers who are not familiar with the dangers of crossing glacial streams.
When Sarah Bishop died, her family funded the placement of informational signs at trailheads near dangerous stream crossings. (below, click for full resolution view)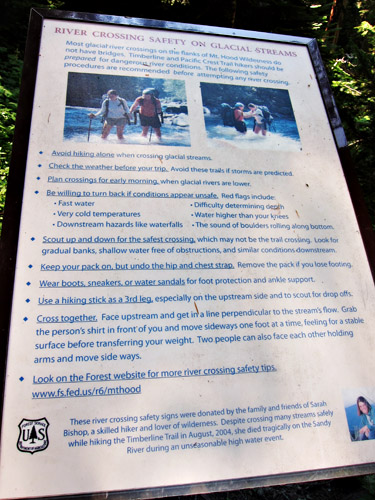 The sign directs readers to the homepage of the Mt. Hood National Forest website where "more river crossing tips" are available, but there is no information to be found easily there by visiting the link. Typing "river crossing tips" or "stream crossing tips" into the site's search box gives nothing useful. The only document I could locate was buried in the site's trail description for Ramona Falls, and it's an exact copy of what's on the sign. It's an example of government at its worst: taking taxpayer dollars, promising something, and then failing to deliver. Much credit is due Bishop's family for paying for the signs, but the Forest Service isn't let off the hook. They have been negligent in not doing anything to improve the safety of their bridges. While the signs are helpful, we now know they are not enough.
In particular, when reading the sign the section listing reasons to turn back and not cross doesn't list the most important thing to be aware of: heavy rainfall upstream. That was the cause of both recent deaths and needs to be listed as one of the red flags. Right now, it's only hinted at in the footnote with Bishop's picture.
The time has come for a fix to the dangerous crossing on this trail. Ramona Falls needs a safe suspension bridge of the kind used along trails in New Zealand. These bridges are also in use in places such as Mt. Rainier's Wonderland Trail. They're not unheard of in the USA. Until there's a safe, permanent bridge in place, the deaths are likely to continue.
As a temporary measure until a safe bridge is installed, improved wireless technology makes it possible to put a solar-powered warning light at the river crossing that could be activated from the nearby ranger station. If a storm warning is declared, the light could flash and alert hikers to not cross the stream until help arrives. A sign with the light should indicate for hikers to wait and that help has been summoned. It's a travesty to realize that while Ludwig and Bishop perished, rangers were sitting warm and dry at their desks in the ranger station in nearby Zigzag, just a ten-minute drive and 30-minute hike away. This is a stopgap measure and wouldn't work when the station isn't staffed, but it could help a lot.
I've done a lot of backpacking and made many crossings of dangerous streams. Some of those trips were to New Zealand, where the rainfall is legendary. I remember one time I had to turn back trying to ford a stream alone in dangerous rains causing widespread flooding in the region over several days. Fortunately, I received training and it helped me to find a way across. New Zealand's Department of Conservation thoughtfully placed a shelter at the stream where I could wait for help if I decided to not make the crossing. I was able to wait there, keep dry, and have lunch while I waited for a lull in the storm that lowered the river level. Ramona Falls should also have a shelter to make hikers more inclined to wait in a storm than to take a chance with the crossing. Peer pressure can be your own worst enemy in a situation where a group is rushing to get back to the car and avoid getting drenched in an afternoon rainstorm. The shelter needs to be located on the side of the river where hikers returning from the trip can wait before crossing the river and stay dry while waiting for help or for rains to let up.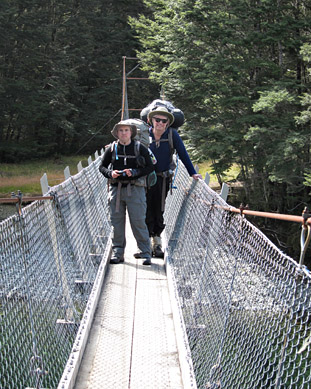 Suspension bridge on New Zealand's Milford Track
The Forest Service is conducting an internal investigation into what can be done in the wake of Ludwig's death. They need to look at an electronic warning light, a safe suspension bridge, a shelter at the crossing, and a better effort to educate hikers on the danger of mountain streams, emphasizing the danger of severe upstream storms. Please, do something useful with our taxpayer and recreation pass dollars. The time has come to take action to stop these senseless deaths. Tourism is an important part of our local economy, and the expense of better infrastructure is justified.
I'll share two excellent links to safe stream crossing tips that should be part of the Forest Service's education efforts below. All hikers should read these.
"How to Ford a River" (Washington Trails Association)
"River Safety" (New Zealand Mountain Safety Council)
Sincerely,
Chris Carvalho