A web log for enhancing the understanding of human impact on the natural world
Appreciating Nature's beauty through photography has been a focus of my life since I was a teenager, but the time has come to do more. I am taking my work in a new direction to highlight threats to the natural world. I'll still do fine art photography, but I've come to realize that without doing something concrete to rally public support for protection both my work and the joy we all experience outdoors are likely to perish. My blog Seeing Nature will share insights on current topics. You won't find environmental extremism here; I aim to be thoughtful and critical of unsound thinking on both sides of the discussion on conservation. Please read along, but promise me something: After you're finished, take some action to help the natural world. Then turn off the computer and get outside. The quick link to this blog is http://tinyurl.com/3nau4l6

Summary of Posts

Forest Service, Hiking Nonprofits Meet to Discuss Eagle Creek Fire Recovery Effort January 12, 2018
Nature and funding largest uncertainties on path to future of trail system
Wake Up And Smell the Smoke October 19, 2017
The 2017 Eagle Creek Fire teaches lessons in fire policy and involving the public in crafting it.
Everyone's a Winner: The 2017 Solar Eclipse September 8, 2017
On the scene of the total solar eclipse in central Oregon
Forest Service Hoards $14 Million from Recreation Fees; Trails Suffer October 2, 2016
Unspent fees, declining spending point to diversion of funds
An Open Letter to Governor Jay Inslee June 16, 2016
Serious flaws in Vancouver oil-by-rail terminal risk analysis create false impression of safety
A Map Salem Doesn't Want You to See February 14, 2016
Is Portland the reason Sherman County has one of the highest cancer rates in the nation?
Eat Organic, or Die January 18, 2016
Mounting evidence suggests glyphosate in food supply linked to serious diseases.
Heat Wave Cooks WA Monarchs August 19, 2015
Record heat decimates fall migrating population.
Oregon's Liquid Gold April 23, 2015
Cascade Locks/ODFW/Nestle water-rights swap not in the public interest
Anatomy of a Clearcut February 8, 2015
Virtual tour: Mosier clearcut's impact on the Gorge Scenic Area
The Decline of Photographic Printing January 11, 2015
In a move to screen-based imaging, paper prints still have relevancy.
This Picture Is Illegal August 22, 2014
Forest Service floats restrictions to photography in wilderness
Open Letter to Mt. Hood National Forest August 22, 2014
Improved bridge needed to stop hiker deaths on the Ramona Falls trail
The Eighth Wedge: Population and Climate Change November 7, 2012
An inexpensive fix for carbon emissions that doesn't require a technology breakthrough
Roadside Trash: Causes and Solutions March 29, 2012
Political will could fix the litter problem.
The $10 Picnic March 8, 2012
Escalating recreation fees wall off parks from the public
Wind Turbines Blow Away Gorge Views July 2, 2011
The central Columbia Gorge falls prey to advancing wind power development.
Making Conservation Dollars Work January 14, 2011
Why I stopped contributing to the Sierra Club.
In Business For The Wilderness July 27, 2010
What corporations know that the conservation community doesn't.
The Windmills Are Coming June 6, 2010
Wind turbine development threatens Columbia Gorge scenic views
Forest Service, Hiking Nonprofits Meet to Discuss Eagle Creek Fire Recovery Effort
Nature and funding largest uncertainties on path to future of trail system
By Chris Carvalho
Entry 20: January 12, 2018
This article was updated January 19, 2018 with new information supplied by the Forest Service.
On December 1, 2017 the Forest Service held a meeting to discuss recovery efforts in the Columbia Gorge in the wake of the Eagle Creek Fire. At the meeting were representatives from the Forest Service including Stan Hinatsu and Dawn Stender. Oregon State Parks sent a representative. Also in attendance were nonprofit representatives Roberta Cobb from the Pacific Crest Trail Association (PCTA), Ryan Ojerio from the Washington Trails Association (WTA), Maegan Jossy from Friends of the Columbia Gorge, and Steve Kruger, Jaime English, and Tom Kloster from Trailkeepers of Oregon (TKO). There was also a prior meeting held in Cascade Locks in October. Together, the group will be called the Gorge Trails Recovery Team.
The focus of discussion was how nonprofits can work with the Forest Service to aid in trail recovery and the role of federal funds in the effort. A follow-up meeting is planned for January 2018. The Forest Service is on track to complete assessments of affected trails by the end of 2017. Trail repair work will wait until spring 2018 at the earliest, until the full impact of winter weather has ended. A number of factors will affect the scheduling of work on each trail: the amount of damage, funding, crew staffing, and accessibility. On January 19, the Forest Service published a summary of the year-end assessment. Detailed reports on the status of each trail are available here.
The Forest Service has released a soil burn severity map from aerial surveys that indicates fifteen percent of the 49,000-acre fire area has been severely burned. About 30 percent of the area is moderately burned, and the remaining 55 percent has very low or unburned impact. Trails near Larch Mountain, Nick Eaton Ridge, Eagle Creek, Tanner Creek, Ruckel Creek, Oneonta, and Horsetail Creek are most severely affected.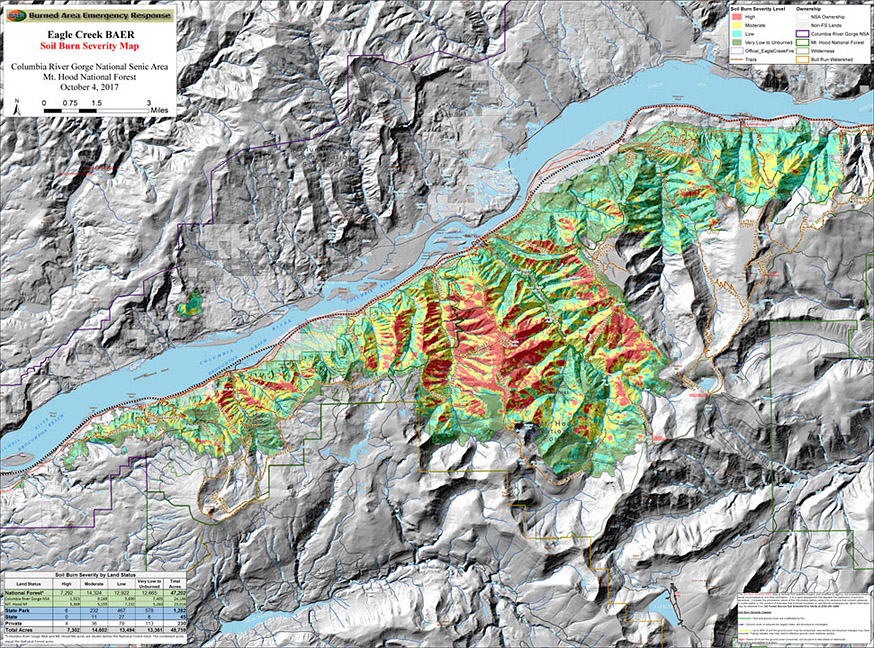 Soil Burn Severity Map (click to open larger version)
There are 121 miles of trail in the fire area that are closed to the public for safety. Many hazards exist including unstable soil and rocks, fallen trees, burned-out bridges, and landslides. Boulders and talus material in the gorge are held together by a covering of moss. When this burned away, areas that were once stable now have persistent rockfall. The closed trails make up about 60 percent of the total trail mileage in the Scenic Area. Because most of the impacted area is within the Mark O. Hatfield Wilderness, the Forest Service's management policy calls for "little to no human intervention on the forest's natural regeneration process."
There is high interest in the hiking community to learn more about the fire's impact on trails. More photos and reports are needed to keep hikers informed. (Note: Many photos are now available by reading each assessment report.) An education effort could help to discourage hikers from illegally entering the burned area. There have been many instances of people trying to enter closed areas, and the Forest Service has given out over 150 warnings and 49 citations to scofflaws. The interconnected trail system complicates plans to reopen portions of it, as hikers will be tempted to enter dangerous areas through trails that are repaired and safe to hike on.
Commentary: My review of the reports completed so far is that the amount of damage and reconstruction work is sobering. Hopefully the magnitude of work will foster a much-needed change in the public's relationship with the gorge's trails. In the past, we've taken our trails for granted. Going forward, my hope is that there will be a fierce sense of ownership and responsibility toward the region's trails, and changes to policy that will ensure the monumental work to be done won't be wasted or forgotten any time soon.
Friends of the Columbia Gorge is planning to hire a temporary stewardship coordinator as a one-year position to manage volunteers from their organization. They are involved in publicity to direct hikers to alternative trails during the burned-area closure. There is concern that there will be a major increase of visitation on the Washington side of the gorge and the Mt. Hood area in 2018 which could cause problems with congestion, trail damage, and habitat impacts on those trails. Managing this increase will place an additional strain on resources. On the Washington side, the WTA is working on maintenance planning for 2018 and will reserve lower-level projects for the Trail Skills College, an annual spring event that provides training for trail volunteers. WTA will hire a full-time person to be a crew leader and volunteer coordinator, along with a full-time seasonal person to assist with leading work crews. Over 4,000 people have signed up for volunteering to help with fire recovery. One strategy to put this group to work quickly is to have some volunteers work on trails that would experience increased traffic, allowing for training that would also address some of the increased impact outside of the burned area.
There was discussion among the group on a change in direction, moving from a "transactional" relationship with the Forest Service to one that's "transformational." A hopeful sign is the Forest Service beginning work on a new trail plan for the Scenic Area to begin to address the issues of sustainability that have affected the trail system for a long time. The group expressed strong support for completing a plan. To be effective, many stakeholders would need to be involved: the hiking community, ecologists, firefighters, residents, and businesses that serve the recreation community.
Part of the discussion recognized a near-term opportunity to find ways to "do no harm" when reopening facilities to the public. Now that everything is closed, it's possible to reevaluate how things can be done in the future to adopt better approaches to managing impact. That could include some long-term closures for natural restoration at sites such as Oneonta Gorge or Munra Point. This approach carries risk, however. Unless new trails can be built quickly, there will be increased pressure on trails outside the burned area and on the small number of trails that are opened in the early stages of recovery work. There's only one workable solution for that problem: limiting access to other gorge trails through a permit system, parking restrictions, and/or closures on certain days of the week. The sheer volume of work makes it highly unlikely that any new trails could be built fast enough to address the high demand, at least for 2018. The Forest Service said that trail recovery in the gorge could be a "decades-long effort."
Congestion is already happening on some open trails. The video below shows the parking area at Catherine Creek, a popular trail east of the town of Bingen, Washington, on Saturday, January 13.
The Forest Service has assessed 22 miles of twelve trails in the trail system including photos of the damage. TKO is working with the Forest Service to help release some of the information to the hiking community. Because a significant amount of assessment work remains, the Forest Service doesn't expect to have crews working within the burned area by the time of Trail Skills College for 2018. Only a few less-impacted trails will be ready for restoration by that time, such as Herman Creek and Trail 400, the east-west trail at low elevations on the Oregon side of the gorge. To accelerate work, the Forest Service may be able to seek an exemption to allow chainsaws to be used in the wilderness portion of the trail system. A way to improve integration between nonprofits and the Forest Service might be to embed a representative within the Forest Service office in Hood River. If there's one common thread running through what rangers are finding, it's that unknown and changing conditions within the fire area mean there's no certainty of when most trails can reopen. Below are photos of some of the damage along the Horsetail Falls Trail #438: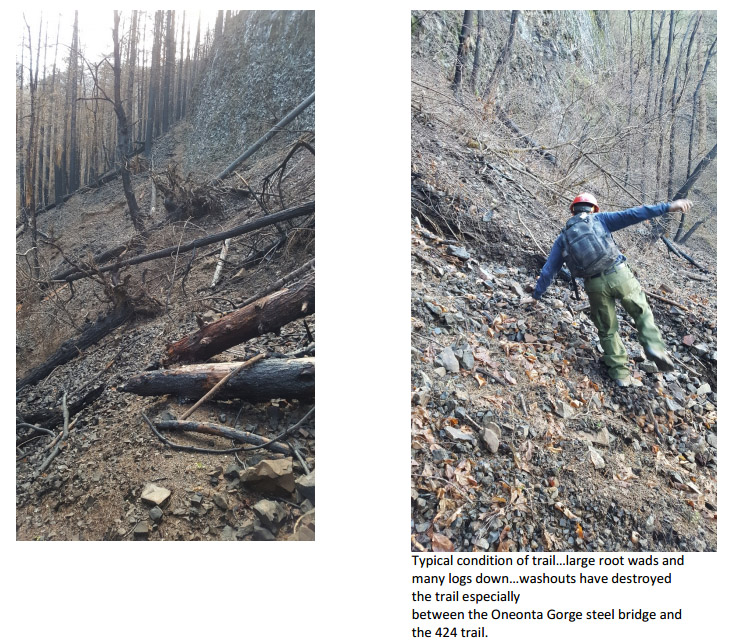 Excerpt from report of damage to Horsetail Falls Trail #438
Funding is the major question facing rebuilding of the trail system. There are many questions and few answers at the current time. There was discussion on what sources to pursue today: volunteers, crowdfunding, emergency funding sources within the Forest Service, and other sources not yet on the radar such as sponsorships or grants. While there are many ideas, very little is known on what will be available yet. There is approximately one million dollars in an account from unspent Northwest Forest Pass fees, but the entire sum could easily be spent just on a portion of the work needed on the Eagle Creek Trail alone. The Forest Service has asked for additional funding to help with trail repair and to increase capacity, but only a portion of the amount requested has been awarded. Due to issues with the Federal Lands Recreation Enhancement Act, fees the agency charges can only be used at nine designated sites on the Oregon side of the Columbia Gorge where the fees are collected. This restriction prevents fee dollars from being put to work at other parts of the burned area, so a different funding source must be found to repair those trails. Establishing new fees is a lengthy process, and can't be completed in the timeframe needed to do the repair work.
Several working groups were formed to divide up the recovery effort. Steve Kruger will lead volunteer efforts and the near-term response. Jaime English and Ryan Ojerio will work on planning, Roberta Cobb will represent nonprofits in organizing volunteer work crews, and Tom Kloster will work with Rachel Pawlitz of the Forest Service on communications. The next meeting will happen in January 2018.
A note on transparency: The December 1 meeting wasn't announced to the public. When government agencies meet to discuss policy decisions, the Sunshine Act requires that the meeting be announced to the public a week in advance in the Federal Register. More openness about the recovery work is warranted because of the large number of recreationists affected by trail and campground closures, the economic impact on the region from reduced visitation, policy changes that could change the way trails are used in the future, and the fact that volunteers will perform much of the work. I raised this issue with the Forest Service, and was assured that the next meeting will be announced to the public. The explanation of why the earlier meetings in October and December weren't announced was that they only concerned working with nonprofits for planning purposes addressing how to work together, and not decision-making.
Chris Carvalho has a Bachelor of Science degree in chemical engineering from the University of California at Berkeley. He is a photographer and blogger on public policy, environmental, and conservation topics.
Wake Up And Smell the Smoke
The 2017 Eagle Creek Fire teaches lessons in fire policy and involving the public in crafting it.
Entry 19: October 19, 2017
This article was updated October 22, 2017 with additional information.
In the classical Greek legend of Pandora's Box, Zeus was angry with Prometheus for giving people fire. He sent a beautiful woman, Pandora, down to earth with a box, saying it must never be opened. She married Prometheus' brother. Curiosity eventually overcame Pandora and she opened the box, unleashing troubles of every kind on humans. It was the gift of fire that started it all. Click here to read more...
Everyone's a Winner: The 2017 Solar Eclipse
Photographing the Great American Eclipse of 2017 from Central Oregon
Entry 18: September 9, 2017
Solar prominences of the 2017 total eclipse
Depending on who you talked to, the 2017 solar eclipse ranged from a spiritual experience to the media event of the century, or possibly Armageddon. What you wanted to see in it, you found, much like a Rorschach test given to millions of people at the same time. For me, it was the chance of a lifetime and not to be missed. We made reservations a year in advance for a motel in Redmond, Oregon so we could be within the path of totality as Portland is just outside it. Already rooms were getting hard to find. By June we heard all kinds of dire predictions of fuel shortages, traffic jams, food stores and restaurants selling out, cell phone outages, and power failures. Newspapers said that over one million tourists would visit Oregon for the event, causing unprecedented strain on communities fortunate enough to be in the darkest part of the moon's shadow for one or two brief minutes. Click here to read more...
Forest Service Hoards $14 Million from Recreation Fees; Trails Suffer
An Embarrassment of Riches, Poverty of Programs
Entry 17: October 2, 2016.
Hikers in the Columbia River Gorge National Scenic Area (CRGNSA) are familiar with the Northwest Forest Pass, a $30 annual permit required at many sites on federal land. The fee program operates in Washington and Oregon, with collections allocated to participating regional forests. Revenues in the Scenic Area have climbed steadily from $100,000 in 2003 to $441,000 in 2015, a 7% annual growth trend. Click here or on the chart below to read more...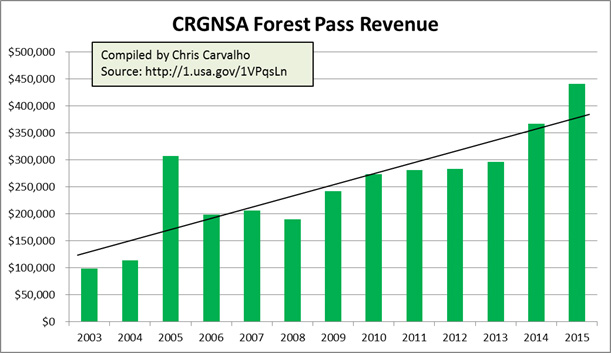 An Open Letter to Governor Jay Inslee
Serious flaws in Vancouver oil-by-rail terminal risk analysis create false impression of safety
Entry 16: June 16, 2016.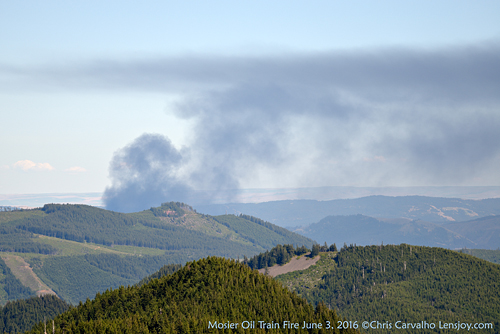 The recent derailment and fire of a train carrying crude oil in Mosier, Oregon led me to question the reasoning in the draft environmental impact statement for the Vancouver Energy oil terminal and conduct an independent review. What I found was a number of flaws, errors, and omissions in the risk analysis. If the terminal is built, we can expect to see an oil release event in the Columbia Gorge once every 18 months according to industry data. The letter below to Washington Governor Jay Inslee explains what I found. Click here to read more...
A Map Salem Doesn't Want You to See
Is Portland the reason Sherman County has one of the highest cancer rates in the nation?
Entry 15: February 14, 2016.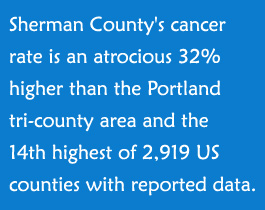 Sometimes a map is great for improving one's perspective. Residents of Portland, Oregon are upset about recently discovered high levels of arsenic and cadmium at several hotspots in the city, some located near artisan glass manufacturers using the toxic metals to color their glass. As a cancer survivor, I too am angry at the Oregon Department of Environmental Quality (DEQ) for its pro-business attitude that values corporate profits far above human health, even though corporations don't get cancer.
While I care deeply about the situation and want the DEQ to serve the public's interest first and businesses' second, I found something startling that puts Portland's problem into a wider perspective. My natural suspicion was that cancer rates in Portland would be the highest in the state, owing to the greater concentration of industry, automobiles, and their pollution. I was wrong. Here is a map of cancer incidence (all types and all races) in Oregon showing how cancer rates vary by county.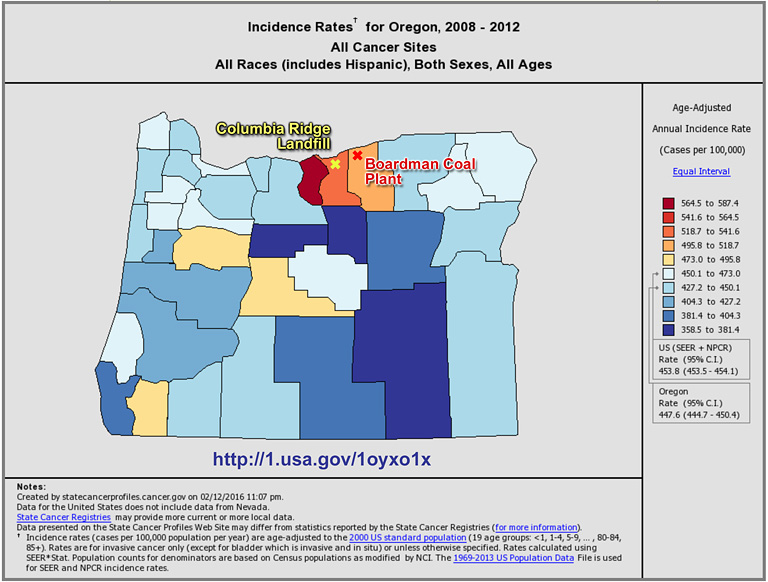 Figure 1. Oregon cancer rates by county, showing Boardman coal-fired power plant and Arlington landfill sites
The map comes from the National Cancer Institute website and one can easily generate a map for any state and most cancer types, categorized by race and sex if desired. The tri-county Portland metro area (Washington, Clackamas, and Multnomah counties) has an average annual incidence rate of 445 cases per 100,000 population. That's slightly below the national average of 454. The average rate for Sherman (dark red), Gilliam, and Morrow counties (from left to right above, with Portland General Electric's Boardman coal plant in Morrow County and Arlington's Columbia Ridge Landfill in Gilliam, serving Portland) is 540 cases per 100,000. That's 21 percent higher than Portland. Sherman County's rate of 587 is an atrocious 32% higher and ranks as the 14th highest of 2,919 US counties with reported data.
While the outrage in Portland over arsenic and cadmium is certainly justifiable, there should be even greater outrage about the situation in Morrow, Gilliam, and Sherman counties. The coal plant (slated for closure in 2020) and landfill deserve careful scrutiny to find out if they are causing these high cancer rates. While the lack of regulation of arsenic and cadmium is troubling, our state authorities need to devote even more attention to understanding and doing something about cancer rates in the rural counties east of us, especially if Portland is exporting its cancer risk there along with its solid waste and coal-fired power emissions. Note: It may not be only Oregon's problem. The Roosevelt Landfill, of similar size, is located in Washington just across the Columbia from Arlington. It handles waste from all over Washington.
The evidence that Portland could be the reason for these rates is admittedly circumstantial. But the high rates in these rural counties are not. I have sent a letter to Oregon's state epidemiologist asking whether this merits concern and will post an update on her response.
Every time we in Portland throw out the trash, turn on a light, or charge our iPhones, we should thank the residents of the counties downwind from Boardman. If they are giving their lives for us to have our electricity and garbage service, will we do anything for them in return?
Chris Carvalho has a Bachelor of Science degree in chemical engineering from the University of California at Berkeley. He is a photographer and blogger on public policy, environmental, and conservation topics.
Eat Organic, or Die
Mounting evidence suggests glyphosate in food supply linked to serious diseases
Entry 14: January 18, 2016.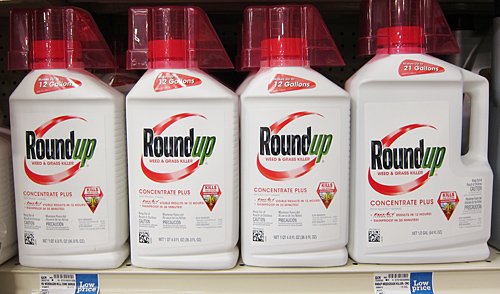 Roundup®: Not just for weeds anymore; it's in our breakfast, lunch, and dinner.
I've always trusted our foods to be safe to eat. In the summer of 2015, that changed. After some meals I felt miserable, with intense pain in the small intestine. I feared I might be experiencing a return of the cancer I'd been treated for in 2011. That turned out to be wrong, thankfully. After further research and experimentation with my diet, I've concluded the pain is from emerging contaminants in the food supply that the US Food and Drug Administration (FDA) should be monitoring and regulating. The contaminants are glyphosate and surfactant additives, used in Monsanto's herbicide Roundup® and similar products from other manufacturers. Click here to read more...
Heat Wave Cooks Washington's Monarchs
Record heat decimates fall migrating population
Entry 13: August 19, 2015.
In mid-August, a group of volunteers (including myself) planned to work with Professor David James of Washington State University to tag monarch butterflies at a site near the town of Vantage and monitor their fall migration. The work was cancelled due to poor emergence of the fall migrating population of butterflies. According to Dr. James, only about three potential migrant monarchs per hour were observed around August 17th and 18th. It's a devastating count compared to the same time in 2014, when around 22 per hour were observed.
It's the first year since he's been monitoring the site that the population has declined in August. He believes this is due to a heat wave that happened at the same time that the first generation of butterflies was due to emerge as adults at the site in late June and early July.
A WSU climate recording station 2 miles from the Vantage site recorded an average maximum temperature from June 26-July 10 of 103.1ºF. Every day during this period exceeded 100ºF with a maximum of 109º on June 28.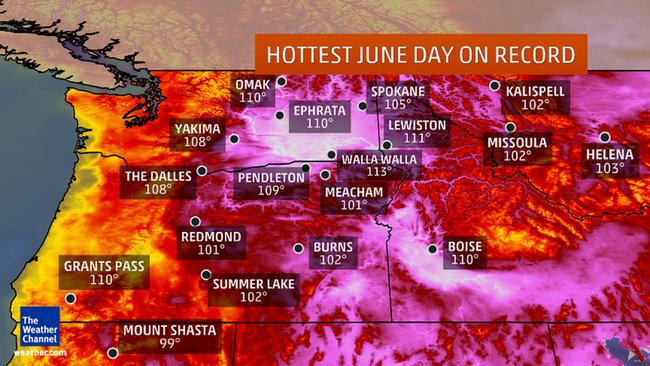 Map from The Weather Channel showing the hottest temperatures ever recorded in the month of June
According to Dr. James, "These temperatures exceed optimal temperatures for Monarchs by a significant margin and appear to have had a detrimental effect on population development and survival."
Monarchs face many threats to their future as a species: habitat loss, loss of milkweed from rapidly expanding herbicide use on farms, deforestation at their overwintering sites in Mexico, and now it appears that climate change may pose yet another threat.
I will follow this story and write more as additional information becomes available.
Oregon's Liquid Gold
Bottled water is big business in Oregon, and the public is the loser
Entry 12: April 23, 2015
Nestlé water: $2.88 per gallon, about the same as gasoline for you and me. But Cascade Locks plans to steal it from public land and sell it to Nestlé for less than 0.2 cents per gallon (two tenths of a cent!)
It rains a lot in Oregon. So it seemed that the Nestlé proposal to bottle a little bit of spring water in the Columbia Gorge wasn't a big deal. It's only half a cubic foot per second, and one tenth of the total volume coming from Oxbow Springs. It creates 50 jobs and property taxes for the struggling town of Cascade Locks. What could possibly be wrong with that? Click here to read more...
Anatomy of a Clearcut
Entry 11: February 8, 2015
SDS Lumber is a timber company operating out of the town of Bingen, Washington. At the end of 2011, it logged 110 acres of land above the Historic Columbia River Highway State Trail in Mosier. The site consists of two parcels, about one third owned by SDS and the remaining two thirds owned by the Warm Springs Tribe. Trees on the site were burned in the 2009 Microwave fire, and a clearcut operation was conducted to salvage the burned timber.
The resulting deforested area was an eyesore that appeared seemingly overnight and angered residents, who had no idea it was happening. The site was on land in the Columbia Gorge Scenic Area designated as General Management Area (GMA) Open Space, where timber harvest was thought to be prohibited. The logged area was visible from towns, trails, and the major highways in both Oregon and Washington. The historic highway trail's character was seriously impacted (Figure 1). Click here or on the photo below to read more and take a virtual tour of the clearcut up close...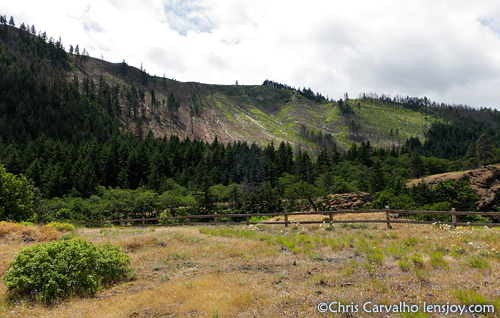 Figure 1. View of clearcut from Mosier Tunnels Trail (click for virtual tour)
U-Develop Closes: The Decline of Photographic Printing and Why Paper Prints Matter
Entry 10: January 11, 2015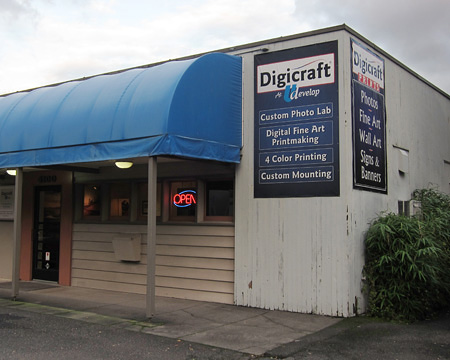 The end of an era; Digicraft closes its doors.
Sadly, the preferred lab I've used for printing since 2000, Udevelop/Digicraft in Portland, Oregon closed its doors on December 23, 2014. I've worked with them over those years and together we navigated the transition from traditional darkroom enlargements to digital optical printing on photographic paper. But the handwriting has been on the wall for several years now that there is a shakeout of fine-art print shops in progress. They weren't the first lab to close, nor will they be the last. But the world lost a great resource for making and seeing the beauty of art photography.
The first photographic prints date from around 1826. Here's one: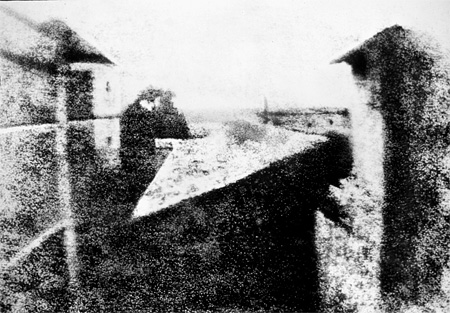 World's earliest surviving camera photograph, 1826 or 1827: View from the Window at Le Gras (Saint-Loup-de-Varennes, France) by Joseph Nicéphore Niépce. From the Wikipedia article History of Photography.
While it's not much to look at by today's standards, the print shows us a window to a world almost two centuries ago. Predating photography, there are drawings surviving from around 1437 and manuscripts that date from the sixth century A.D. Reproduction of images has taken well over a century to move from hand drawings to a variety of printing technologies. In just a couple of decades there has been an explosion of change owing to digital capture and the Internet. It is clear that printing is now in decline.
In this rapidly evolving marketplace, photographers have a few options. One is to print at home using inkjet printing. Another is to use one of the remaining fine-art labs. I have chosen West Coast Imaging in California as they've printed my work before with excellent service and results. But my prices and delivery time will increase owing to the extra shipping involved to use them. A third option is to go completely online and sell images to clients directly for viewing on wall-mounted displays, or on digital media such as Blu-ray disks.
There's no way to stop this inexorable tide, but I must at least question it so people can make intelligent choices about where it's going. We don't have to do what others are doing, though resisting change will carry its own costs. Here is why I still believe paper prints matter.
Screens let us search for and look at images quickly, and change them at our whim. But there are things they don't do well. They don't often let us look at the image at the detail the photographer intended, as nearly every online photo is compressed. If a photographer allows you to zoom in to see more detail, the experience is different from looking at a print on the wall, as one can only see a crop of the zoomed area defined by the borders of the screen. That's not the same to the eye as being able to wander through an image hanging on the wall by simply moving one's eyes and head. Getting lost in a large print is a visceral feeling photographers strive for, and it's not possible electronically. Even the most expensive large displays cannot approach the pixel count of a large fine-art print.
Screens also draw power. A framed print needs light sometimes, but not if viewed in daylight. So we are moving to an era that's contrary to the need of society to reduce carbon emissions. It will take more electricity to view photography as printed art declines.
Viewing an image on a screen takes away the photographer's freedom to choose the medium on which to present the image. With paper, the artist can choose the surface texture and color gamut of the ink or dyes on the paper or the emulsion. The image is exactly as the photographer wanted it to be seen. On a screen, the image's colors will depend on the quality and gamut of the viewer's display and how accurate the color calibration is. There will likely be color inaccuracies, especially in the highlights and shadows. Even with black-and-white images, these factors apply and can even be more apparent in some cases. Since I likely won't know the exact characteristics of the viewer's display, I can't produce an image that looks best on it.
Unlike a framed print, a digital image is tied in some way to the display system. Display technology is changing rapidly, so an image produced for a display in use today will look very different on a display in use in ten or fifty years from now. Owning an electronic image means buying into an upgrade path to have an image to look at on future technologies. That may mean extra money for photographers, but also more risk for buyers. Think about how quickly digital TV has changed since the first sets came out in 2009 in the US.
Pixels on a display are a periodic arrangement of small red, green, and blue bars. They are not the same as the continuous tones of a photographic print, nor are they the same as the ink dots of an inkjet print. I've written about this topic here. For the viewer, there is a richness and tactile quality of a print that displays cannot match. It's similar to the difference between digital and analog music recordings. Not everyone appreciates or sees the difference, but those that do know what I'm talking about. Images on a screen have an artificial quality that can become readily apparent under certain conditions, such as when there are textures or repeating patterns (called moiré) or areas of high contrast with fine detail.
Another serious problem is protecting the rights of the photographer. Most photographers are reluctant to convert a high-resolution image to electronic form and distribute it widely, because it can be easily duplicated. If electronic distribution becomes the only practical way to sell images, they will be pirated and the pictures essentially become free to anyone willing to violate copyright law. We've seen this play out in the music industry. An album track is usually available for download at 99 cents. Most musicians find that this price is too low to make an honest living unless one is at the top of the charts. Once something is only worth 99 cents, it also becomes difficult to pursue copyright violators. Is it worth going after someone who steals something that's worth only a dollar? Nearly every music track can be found online as a pirated version for free.
A characteristic of prints is that once purchased, they are always there for the owner unless some disaster occurs. Digital images are only there when the viewing medium is turned on and the storage media are working properly. As time passes, there is no real guarantee the images will still be there for the owner. Can you find anything on your computer you bought 25 years ago? Maybe, but not very likely.
All of us need to think carefully about the art we appreciate as the digital revolution progresses. Paper art has real power. It's been around for centuries, and deserves to be around for centuries more. That will only happen if art buyers support the people who make prints. Electronic images have their place and their advantages, but they do not supplant a well-crafted framed image.
This Picture Is Illegal
Proposed regulations to require Special Use Permits for commercial filming/photography
Entry 9: September 26, 2014
If you drive a car, I'll tax the street
If you try to sit, I'll tax your seat
If you get too cold, I'll tax the heat
If you take a walk, I'll tax your feet
The Beatles, "Taxman"
Yes, this picture is illegal. It was taken while US Forest Service interim directive 2709.11-2013.1 was in effect and is (gasp!) For Sale. I was unaware I needed a Special Use Permit just to carry a camera into a wilderness area, take the photo, and show it to you so you could appreciate the beauty of wilderness free of charge, and if inspired, buy a copy to hang on your wall. The Forest Service is taking comments on this policy, so I wrote the letter below. Please add your voice and support free access for photography. Without a backlash from the public, we'll all suffer a great loss as our government erects another barrier to appreciating nature.
Tom Tidwell
Chief
US Forest Service National Headquarters
101B Sun Ave. NE
Albuquerque, NM 87109

Dear Mr. Tidwell:
I am a photographer who takes still pictures and video for personal and professional purposes. I sell my work as fine art, and also for publication. Some of it is newsworthy and has appeared in documentaries, books, and in the press. Most of my subject matter is nature, and often taken in wilderness areas. I also blog about environmental issues. I am highly concerned about the US Forest Service Proposed Directive for "Commercial Filming in Wilderness; Special Uses Administration" (79 FR 52626) for the following reasons:
The eventual use of an image (whether still or video) is often understood only after it has been taken and published. The proposed regulation assumes the image usage is known before it is taken, and even before the photographer travels to the site (any permit must be submitted well in advance of the visit.) Nearly every photographer has a story where an image taken for personal use became one that had commercial value, often unexpectedly.
Despite claims to the contrary, the proposed regulation does encompass still photography if it's eventually sold. Referring to CFR Title 36, Chapter II, 251.51, it says commercial use includes "the creation of a product for sale" and "where the primary purpose is the creation of a good or service." That means art photography which might be later sold is commercial, and any kind of photography where the photographer might receive compensation is commercial. People like me who shoot photos for fine art are being targeted, despite the fact that we may shoot thousands of images and only sell one of them. If I had to get a permit for each trip to a wilderness area, I'd be out of business in a heartbeat.
The existing regulation's wording gives the Forest Service far too much discretion to create violations out of thin air for photographic activities. The wording should be simple, specific, and clear, and narrowly defined for only activities planned in advance and funded upfront by a third party, versus spontaneous, creative use for journalism, artistic expression, publication, or documentation, which are situations where compensation is uncertain, after the fact, and often unknown in advance. We must not have regulations where photographers live in fear of not knowing if they will be punished because a law is so vague as to give a ranger the ability to discriminate against photographers, applying a law strictly to some, and not to others for reasons unrelated to what the photographer is doing at the time.
Photography is very dependent upon weather, site conditions, vegetation growth, bloom time, and bloom quality. These conditions cannot be predicted in advance where a permit entails lengthy delays.
Permit fees and applications present an unnecessary barrier to free expression and the photographer's right to record nature. This is a form of speech and must not be hindered by governmental intrusion.
The permit process creates a bureaucracy that imposes additional expense and burden on taxpayers, as well as additional costs for anyone in business who photographs for art, journalism, or publication. Digital technology has reduced compensation to paper-thin margins. Permit expenses will effectively prevent photographers from taking wilderness images and being fairly compensated for them.
Video and still photography have essentially merged with new technology. Nearly all new cameras and cell phones can take either form of imaging. Regulations must not distinguish between or limit the ability to record video or stills, causing a person to be in violation of the law by the simple decision of taking a video during a still photo session.
While the proposed regulation's title applies to commercial filming, it creates a slippery slope toward placing the same restrictions on still photography. Many still photographers now shoot video as a means of promoting their work and supplementing their often meager income. Video is often done in conjunction with still photography. If enacted, video producers will seek to have the same restrictions applied to still photos out of fairness concerns.
The regulation is already inaccurate in its use of terminology. I'm not being flippant to note that "filming" isn't a valid description of today's motion-picture equipment. Film is seldom used, what happens today is almost always digital capture, either still or video. The technology is changing so fast that any attempt to regulate it will likely be obsolete as soon as it's written.
Photographers and journalists play an important role in watchdogging the government. The proposed regulation has the potential to limit that ability, depriving the public of important knowledge about wilderness management, impacts, and exploitation, whether by the government itself or by other parties seeking to benefit unfairly from a resource that belongs to the entire public. Documentation is a valuable purpose for citizens to record history and debate controversial topics. Documentation should not be restricted in any way as long as it is not impacting the wilderness resource.
The regulation was written before the widespread adoption of social media and blogging. Many photographers use these tools for promotional reasons, education, lobbying, and for providing useful content that customers and the general public are interested in. The proposed regulation could force photographers to obtain permits before doing any social media publication work. This would amount to a gag order preventing such speech without paying a fee. I'm reminded of the Beatles' song "Taxman," where the government says "If you try to sit, I'll tax the seat...If you take a walk, I'll tax your feet."
I'd like to share some additional observations about why the proposed policy is a wrongheaded idea. The government is unaware of the large amounts of goodwill they now receive from conscientious photographers and others who love wilderness. When I photograph in wilderness, I'm conscious of the privilege I have to do this without restrictions. I often carry out other people's trash, clean up campsites, and do other volunteer activity such as trail maintenance and construction with USFS personnel. If everyone needs to pay a fee for photography, the sentiment could easily become, "The heck with it, I'm not going to clean up after others anymore, I'm paying the government to do that."
The more government tries to make wilderness into a cash register, the more they will find visitors treating it poorly. Photographers have done more to popularize the value of wilderness and create public support for it than the government ever could. It's time the Forest Service wakes up and gives photographers the credit we're due. For those of us not involved in a lucrative for-profit advertising contract, photographers collectively donate many millions of dollars of time, fuel, equipment, editing, and publishing expenses without asking the government to compensate us.
Government is also unaware of how photography really works. The regulations are written to assume that we just walk up, snap a photo, and then sell it for thousands of dollars. In reality, we may visit an area several times a year to monitor conditions, sometimes going back over many years to find the right combination of weather, light, and vegetation, taking hundreds or thousands of shots. We get one that then sells to a magazine that pays us $50, or maybe $200 if we're lucky. If I had to pay $1500 for a special use permit for each of those trips, would I be able to justify this financially? Of course not. The end result of this misconception is that no one will take pictures in the wilderness any more. It will be prohibitively expensive. The government is taking a place that's accessible to the public, and clearly supported by the courts as an area where photography can't be regulated, and trying to stifle photography there.
The reality of most of my work and that of nearly all fine-art photographers is that people view it online or in galleries free of charge, essentially an educational use. A few people decide to buy prints. A few publishers buy image rights for publication. But the fraction that does is vanishingly small compared to those who view it for free. The "fair use" copyright law allows people to copy my work when it appears online and publish it for educational or journalistic use, and I don't receive any payment for it. If I can't charge for fair use of my images, the Forest Service certainly shouldn't be charging me to create them.
For these reasons, I recommend that the proposed directive be shelved permanently. Any directive to regulate photography and video in wilderness areas must not restrict the taking of images as long as the process is done in accordance with the existing guidelines of no-trace usage, non-motorized access, and keeping the party size below twelve people. The sole limitation requiring a permit should be clear and simple: impact to the wilderness resource, or unreasonable disruption of public access during a shoot. Existing restrictions not allowing models, props, or sets are enough and need not be changed as those items are external to the wilderness and make a clear separation between a for-profit commercial use that is planned in advance and funded upfront by a third party, versus spontaneous, creative use for journalism, artistic expression, publication, or documentation, which are situations where compensation is uncertain, after the fact, and often unknown in advance. I hope you agree, and will help the wilderness to remain a place that photographers can show to others who may not be able to visit it, and largely owes its success to the images we publicize showcasing its beauty.
Thank you for the opportunity to comment.
Sincerely,
Chris Carvalho
Open Letter to Mt. Hood National Forest
Improved bridge needed to stop hiker deaths
Entry 8: August 22, 2014
Jen Wade
Recreation Manager
Mt. Hood National Forest Headquarters
16400 Champion Way
Sandy, Oregon 97055
Dear Ms. Wade:
I'm going to take some heat from the Forest Service for not sharing this letter privately. However, I've watched this situation evolve since I moved to Oregon in 1981 and hiked to Ramona Falls at least once a year, and I'm fed up. Public pressure is the only way to change it. On August 12, 2014 Brent A. Ludwig, a 34-year-old man visiting from New Lenox, Illinois, was crossing the Sandy River on the Ramona Falls trail during a severe thunderstorm that poured around an inch and a half of rain in less than an hour on the slopes of Mt. Hood above the trail's bridge, where he was crossing with a group of 19 others. A flash flood washed away the bridge, and he was carried to his death as his wife looked on. The day of Ludwig's death I was planning a hike on Mt. Hood, but canceled it when I checked weather radar and saw severe thunderstorm warnings on the mountain.
This isn't the first time. In August 2004 Sarah Bishop, who was a skilled hiker, died under similar conditions in another rainstorm.
The Ramona Falls trail is a popular hiking destination because it's close to Portland, relatively easy, and offers a great wilderness experience with a wild river, views of Mt. Hood, and an iconic waterfall.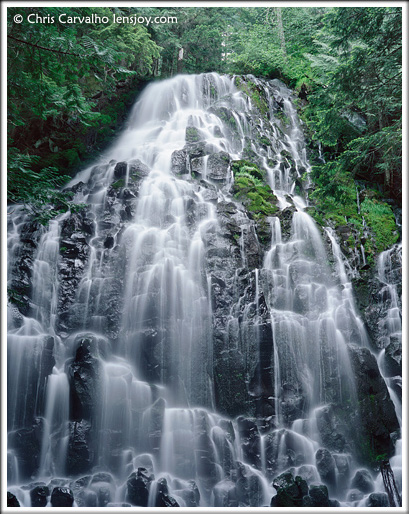 Thousands of people visit every year. It attracts a lot of photographers too. It also requires an expensive Northwest Forest Pass for trailhead parking. So visitors are providing funding for the Forest Service to maintain the trail, and keep tabs on safety. On most days it's a wonderful hike with an easy crossing of a temporary bridge that rangers install in the spring and remove in fall.
Long ago, there was a permanent bridge but the unstable conditions in the riverbed washed it away and the Forest Service decided on a temporary bridge to reduce costs. But things have changed. The popularity of the trail has grown since those days, and on many weekends the parking lot is near capacity. Climate change has also increased the severity and frequency of intense storms. Ramona Falls is talked up in most local hiking guides and websites as a top visitor destination. For that reason, it attracts many inexperienced hikers who are not familiar with the dangers of crossing glacial streams.
When Sarah Bishop died, her family funded the placement of informational signs at trailheads near dangerous stream crossings. (below, click for full resolution view)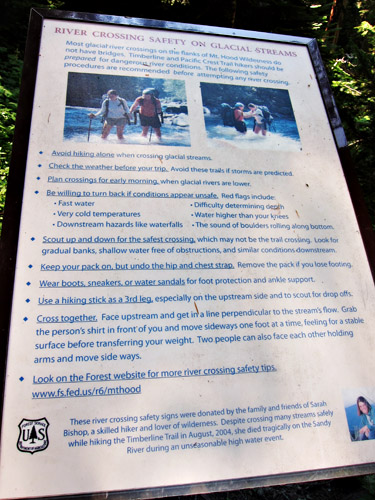 The sign directs readers to the homepage of the Mt. Hood National Forest website where "more river crossing tips" are available, but there is no information to be found easily there by visiting the link. Typing "river crossing tips" or "stream crossing tips" into the site's search box gives nothing useful. The only document I could locate was buried in the site's trail description for Ramona Falls, and it's an exact copy of what's on the sign. It's an example of government at its worst: taking taxpayer dollars, promising something, and then failing to deliver. Much credit is due Bishop's family for paying for the signs, but the Forest Service isn't let off the hook. They have been negligent in not doing anything to improve the safety of their bridges. While the signs are helpful, we now know they are not enough.
In particular, when reading the sign the section listing reasons to turn back and not cross doesn't list the most important thing to be aware of: heavy rainfall upstream. That was the cause of both recent deaths and needs to be listed as one of the red flags. Right now, it's only hinted at in the footnote with Bishop's picture.
The time has come for a fix to the dangerous crossing on this trail. Ramona Falls needs a safe suspension bridge of the kind used along trails in New Zealand. These bridges are also in use in places such as Mt. Rainier's Wonderland Trail. They're not unheard of in the USA. Until there's a safe, permanent bridge in place, the deaths are likely to continue.
As a temporary measure until a safe bridge is installed, improved wireless technology makes it possible to put a solar-powered warning light at the river crossing that could be activated from the nearby ranger station. If a storm warning is declared, the light could flash and alert hikers to not cross the stream until help arrives. A sign with the light should indicate for hikers to wait and that help has been summoned. It's a travesty to realize that while Ludwig and Bishop perished, rangers were sitting warm and dry at their desks in the ranger station in nearby Zigzag, just a ten-minute drive and 30-minute hike away. This is a stopgap measure and wouldn't work when the station isn't staffed, but it could help a lot.
I've done a lot of backpacking and made many crossings of dangerous streams. Some of those trips were to New Zealand, where the rainfall is legendary. I remember one time I had to turn back trying to ford a stream alone in dangerous rains causing widespread flooding in the region over several days. Fortunately, I received training and it helped me to find a way across. New Zealand's Department of Conservation thoughtfully placed a shelter at the stream where I could wait for help if I decided to not make the crossing. I was able to wait there, keep dry, and have lunch while I waited for a lull in the storm that lowered the river level. Ramona Falls should also have a shelter to make hikers more inclined to wait in a storm than to take a chance with the crossing. Peer pressure can be your own worst enemy in a situation where a group is rushing to get back to the car and avoid getting drenched in an afternoon rainstorm. The shelter needs to be located on the side of the river where hikers returning from the trip can wait before crossing the river and stay dry while waiting for help or for rains to let up.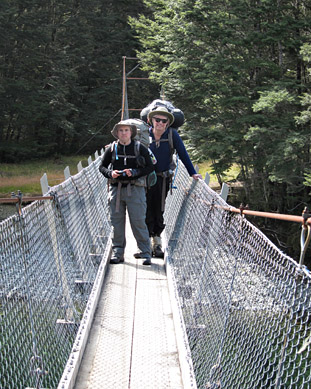 Suspension bridge on New Zealand's Milford Track
The Forest Service is conducting an internal investigation into what can be done in the wake of Ludwig's death. They need to look at an electronic warning light, a safe suspension bridge, a shelter at the crossing, and a better effort to educate hikers on the danger of mountain streams, emphasizing the danger of severe upstream storms. Please, do something useful with our taxpayer and recreation pass dollars. The time has come to take action to stop these senseless deaths. Tourism is an important part of our local economy, and the expense of better infrastructure is justified.
I'll share two excellent links to safe stream crossing tips that should be part of the Forest Service's education efforts below. All hikers should read these.
"How to Ford a River" (Washington Trails Association)
"River Safety" (New Zealand Mountain Safety Council)
Sincerely,
Chris Carvalho
The Eighth Wedge
Entry 7: November 7, 2012
If you have read Al Gore's book "An Inconvenient Truth," Page 280 has a chart of seven wedges representing different approaches to controlling carbon emissions contributing to climate change. The chart is based on a paper by Robert H. Socolow and Stephen W. Pacala published in the journal Science. The paper proposed seven strategies to level off emissions: energy efficiency, renewables, clean coal, forests, soils (stop deforestation and agricultural tilling), fuel switch (coal to gas, oil to heat pump, etc.), and nuclear power.
Source: Pacala, S., and R. Socolow. "Stabilization Wedges: Solving the Climate Problem for the Next 50 Years with Current Technologies." Science 305 (August 13, 2004):968-972.
The premise of the paper is that there is a way to control carbon emissions through these techniques that could successfully mitigate human impact on climate. However, even though the paper talks about current technologies, there are many uncertainties in the success of these strategies. Clean coal, for instance, could be too costly to implement and it relies on unproven technology such as carbon capture and storage. But what if we were overlooking an eighth wedge, a strategy that doesn't require any new technology at all?
Click here to read more on this article
Roadside Trash: Causes and Solutions
Entry 6: March 29, 2012 (updated October 23, 2012)
For several years I've picked up trash along different stretches of roadway. I do it to make the world a better place and as a way to do exercise that produces a benefit to society rather than just to burn calories. Trash pickup is an endless job though; it's hard sometimes to realize that there's no way to make permanent progress.
While doing all that work I have plenty of time to think and I've come up with some ideas that might make a dent in roadside litter. It started with analyzing what gets thrown away. Much of the trash comes from products involved with addiction, such as beer cans, liquor bottles, and cigarette boxes and butts. A lesser amount is fast-food packaging and cups, followed by food packaging from the grocery, and finally random non-food items. Below is what I found on a recent cleanup trip along Old Highway 8 near Lyle, Washington. This road is near a lake, so there's a disproportionate amount of fishing items such as bait cups. Other than that, it's fairly typical. Contrary to what most think, I've never found drugs or syringes over the several years I've done this work. We hear about it on the news a lot, but most trash is quite boring.
| | |
| --- | --- |
| Typical roadside trash (click to enlarge) | |
Just like on TV commercials, I tried to turn most items so their corporate logos are visible. These companies deserve some bad press for contributing to the mess along America's roads. Some of the items say "Please recycle," but as you can see the message is not getting through. If you click on the photo above it will open a high-resolution version (3MB file.) The collection above came from along about 1/2 mile of country road. I've cleaned that stretch many times before, so it's representative of what appears in the course of a couple of months.
I see two solutions to the problem of roadside trash. The first is to fine the companies producing product packaging and use the money generated to fund cleanup efforts. It would be relatively easy to do this, just collect trash along a sample of roadways and sort it by the manufacturer, grade it by weight or volume, and then assess a fee.
The second approach, while more complicated, would attack the problem at its source. This would be to tax all product packaging. The tax would be calculated on how biodegradable the packaging is, how easily it's recycled, and just as in the first suggestion above, on actual measurement of how much trash is found along roadways. Money from the tax would fund cleanup and recycling efforts.
Both of these approaches would create jobs cleaning up litter. The packaging tax would be especially effective at spurring manufacturers to create more efficient packaging that creates less litter, and perhaps find ways to eliminate some kinds of packaging altogether. We should also allocate a portion of the money collected to addiction treatment programs. That would reduce alcohol and cigarette consumption and decrease litter as well.
Today most states have a deposit on carbonated beverage containers, but as you can see in the picture above they still make up a huge portion of trash even though in theory one could make money by picking up and returning the cans and bottles. We could increase the deposit and that would certainly help. But it wouldn't address the trash coming from other kinds of packaging. At the current redemption rate of 5 cents per container in Oregon, I couldn't even buy half a gallon of gasoline from the cans and bottles above. Oregon pioneered a bottle-return bill but the latest version was watered down by retailers and beverage companies. There is a provision for refunding a dime per container but it would require the number of cans returned to drop below 80% of sales for two years.
There is a possible shortcoming to these ideas, and that's the notion that people might be more inclined to litter because someone will clean up after them. But people who litter already think that today, and I don't think there will be much of an increase of littering, if any.
Some of the alcoholic beverage containers are likely discarded by underage youth who are drinking in their cars and don't want the containers to be found at home. That's a tough problem to solve. Reducing underage drinking has never been very successful. But we could certainly take some money from the ideas here and put it toward better education and enforcement campaigns. Georgia has studied the profile of people who litter, and the majority of people who litter deliberately are young males between the ages of 11 and 24. I think anyone caught littering in that age group should be the first to work on a cleanup crew.
We can also expect some ranting from the right-wingers who claim that we shouldn't be paying a tax on product packaging. I don't think the tax would be very high though. Also it would likely decrease over time as manufacturers found ways to reduce wasteful packaging and improve recycling. Either a tax or a manufacturer charge is more practical than trying to more strictly enforce littering laws. The cost of patrolling to catch violators is prohibitive and couldn't be done without an intrusive police presence. We know who makes the trash in the first place, and that is the manufacturers. They are easy to locate and bear responsibility for the problem too.
While on the topic of trash, Nestle Beverage has a plan to bottle water from a spring in Cascade Locks and sell it. Since the spring is on state land and feeds the local fish hatchery, they've come up with a proposal to provide well water from the city to the hatchery and take the natural water. That water is a public resource and belongs to everyone in the Columbia Gorge, as well as to the plants and animals that rely on fresh water to survive. We shouldn't squander this spring for the benefits of a corporation, and neither should water from the Columbia Gorge end up contributing to the growing mountain of discarded water bottles. Nestle only wants the water because it's free, and they've found a town that's willing to gamble its future on this scheme in exchange for jobs. If Nestle were serious about helping small towns, they could purify water from the city's well and sell that instead, creating the same number of jobs and leaving the natural spring alone.
Just about every state has studied the composition of roadside litter in ways far more detailed than my own analysis. I've yet to hear of anyone proposing a fine on manufacturers or a packaging tax though, likely due to industry opposition. We have all the data we need and have spent all the money we need to spend to understand the problem; what we lack is the political will to create a solution. Until we do, many volunteers will waste tireless hours picking up a never-ending stream of trash.
October 23, 2012 update: After making another trash pickup, I found an interesting connection between this story and the one below about Washington State Parks. Rowland Lake State Park lies along the road and it's seen visitation drop to near zero due to the Discover Pass fee hikes. The law of unintended consequences (see maxim below) has taken effect and now people park at the junction of Old Highway 8 and SR-14, where parking is free, and camp and litter in the woods there. No one polices the site and there are no trash receptacles. So the perverse result of raising state park fees is that we now have more litter.
Washington Parks' Discover Pass: The $10 Picnic
Entry 5: March 8, 2012
"They took all the trees, put 'em in a tree museum / And they charged the people a dollar and a half just to see 'em." -Joni Mitchell, "Big Yellow Taxi"
March 30 Update: Governor Gregoire has signed a bill that makes the Discover Pass transferable between two vehicles and creates a $50 pass that's completely transferable. It turns out that Discover Pass revenues haven't met expectations. While this new policy helps, it still creates a headache for recreation clubs as the cost of a transferable pass is the same as buying five day-use passes. Many smaller clubs might not recoup the savings from a $50 pass. It seems that Washington won't violate the maxim that when government tries to solve a problem, it only gets worse. They could have simply eliminated the license-plate requirement on their annual pass and reduced the price of a day pass to $5. That would have done something useful.

Unless an organization buys the $50 passes, each member of a carpool visiting a park needs to pay a portion of the day-use fee for each visit. That means a person with a valid annual pass but not acting as the carpool driver will end up paying even more to visit a park since the person's pass is restricted to the vehicles they own. Even with the $50 passes, it is difficult for organizations to ensure they are available for each trip. I lead hikes for the Adventure Group in Portland, and we always have situations where a carpool driver has a pass and hasn't returned it to the person who acts as the keeper for them. This person needs to rendezvous with hike leaders every time a pass is needed and when the passes are returned, and that creates an impractical drain on their time and that of the hike leaders. What ends up happening most times is that people split the day-use fee for each trip. It's a broken system.

Another problem with the current system is that people who use car sharing services such as Zipcar or Car2Go will have a different license plate on each visit, and can't use an annual pass at all. They are unfairly locked out of the benefits of an annual pass.
On March 7, 2012 I visited Beacon Rock State Park in Washington to hike the Hamilton Mountain trail. I knew there was a new user fee for visitors because Washington is facing a budget shortfall and wanted park users to pay up. What shocked me was the $10 fee for one day's use at Washington parks. This is called the "Discover Pass." What it looks like to me is that Washington is doing everything it can to discourage people from using their state parks, especially if the visitors aren't wealthy. Perhaps a better name for this fee is the "Discourage Pass."

Most of us would say that there is a way out, and that is to buy an annual pass for a $30 fee. But $30 is a lot to pay for many families, especially in the tough economic times we're in. There's another gotcha to Washington's fee program that's hidden away: The pass is licensed to only one vehicle by the plate number. So if you have more than one car, choose carefully which one you get a pass for. If you carpool in another person's car, your pass will be invalid.
| | |
| --- | --- |
| Washington's Discover Pass: Cost recovery, or recreation for the rich? | |
The "one pass per license plate" policy also creates a mess for recreation clubs, which used to buy annual passes for the club and share them for carpooling to the park. Now that can't be done unless the club knows the same vehicles will be driven on each trip. So it will be necessary to poll everyone at the start of the trip to find out who has a pass, who must drive their car in order to use it. Otherwise each car will need to be sure there's $10 available to buy a day pass at the park.
Why does all of this matter to my photography blog? I can afford the pass, but I am concerned that walling off nature so only the wealthy can afford it is a good way to make it irrelevant to the public. It sends a message that the parks don't matter, and we can't pay for them as a community resource so we'll just charge the visitors as much as can be gotten away with. Once the public gets used to life without parks, why have any land set aside at all? If I had my way, parks would be free to the public and paid for by taxes on polluters and developers. After all, people who impact nature should be asked to give something back. Given Washington's rubber-stamping of wind power projects without considering their impact, I'm not surprised to see them doing something as stupid as making a family pay $10 to visit a park to have a picnic.
Washington's policy of discouraging visitors is working. On March 24, a sunny Saturday, I drove by Rowland Lake park near Lyle and it was completely deserted at noon. So even the well-to-do are choosing to stay away. I've always seen lots of people at the lake when the weather is nice on a weekend. Nearby trailheads for Catherine Creek and Coyote Wall were filled to overflowing with parked cars. These are Forest Service sites and don't have any fees.
Another way to look at the problem is to ask how much it would take to pay for Washington's state parks through the gasoline tax. Washington used approximately 3.2 billion gallons of gasoline and diesel combined in 2010(1), and the state parks annual budget is approximately $74 million (2). If a gas/diesel tax were implemented of 2.2 cents per gallon, it would completely pay for the state parks budget. I'm not saying this is the best way to pay for parks, but a balanced funding approach that drew money from several sources such as gasoline, other pollutant taxes, land development, and the sales tax could easily pay for parks. A small user fee for park use could reduce the amount from other taxes, of course. Oregon's approach is much more sensible and funds parks partially through the state lottery, which is a voluntary choice on the part of those providing the money. Oregon's annual passes are not registered to a vehicle plate.
Wake up Washington, nature is important.
Wind Turbines Blow Away Gorge Views
Entry 4: July 2, 2011 (updated January 11, 2013)
March 5, 2011 update: Governor Gregoire has approved the Whistling Ridge project. Unfortunately, she will be remembered as the governor who trashed the Gorge by allowing wind power development just outside its boundary, opening more land to this kind of destruction. Donate to Friends of the Columbia Gorge if you are in favor of challenging the decision in the courts.
In view of the monumental damage this decision will cause to the region's scenery by opening up wind power development to all comers, I think it's time to rename Whistling Ridge to Gregoire Ridge:

Gregoire Ridge: Decidedly unscenic for the Columbia Gorge National Scenic Area

Image credits:
Photo by Karen Chandler
Simulation of turbines by
GeoDataScape, Inc.
Note: This is a simulated image,
not a real one. The turbines shown
have been approved but not built
yet.
Back to the main topic:
For decades Washington's Dog Mountain has been one of the most popular trails for hikers to take in spectacular views of wildflowers and to enjoy expansive horizons that encompass the entire length of the Columbia Gorge National Scenic Area. I've taken those views for granted, assuming they were protected.

In the spring of 2011, I got a rude awakening. On a clear day I noticed that wind turbines in both Oregon and Washington are now visible in the east from the Puppy Mountain overlook just below the summit. Oregon's turbines are located in the Biglow Canyon area, and those in Washington, just outside the photo on the left side, are from the Windy Flats project south of Goldendale. I didn't believe it was possible for wind turbine farms to desecrate views in the central gorge. It shows how impacts can sneak up on us without warning or a fair public approval process.

What Can I Do?

Click here to view contact information to comment on wind power impacts in the Columbia Gorge.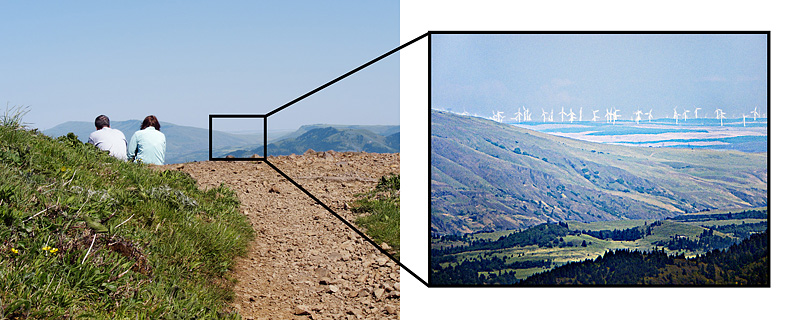 Dog Mountain Viewpoint (left) and Biglow Canyon Wind Turbines (right, 10x zoom)
Another shoe is about to drop. Whistling Ridge (see map below) is a proposed project that's only five and a half miles from this viewpoint. While the turbines off to the east are small enough to miss on a cloudy day, the fifty turbines on Whistling Ridge will be close enough to be a real eyesore. They will be visible from Mitchell Point, Nestor Peak, the Columbia Gorge Hotel, portions of the Historic Columbia River Highway, Cathedral Ridge Winery, and many other sites where scenic interest is paramount.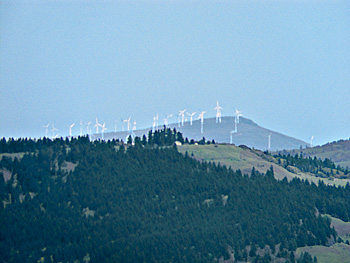 Windy Flats Turbines Viewed from Dog Mountain
It's too late to fix the Biglow and Windy Flats projects. But there is time for the Columbia Gorge Commission to oppose Whistling Ridge and the continuing assault on the view. Whistling Ridge isn't inside the Scenic Area boundary, but the Gorge Commission has every right to comment on it and their silence is telling. As we celebrate the 25th anniversary of the Scenic Area Act, we need to remember how important it is to be ever vigilant of new development threats. The Act was visionary when it was written, but could not anticipate new impacts that rapid changes in society and technology are creating. Now when we need it most, the system set up to protect Gorge views is failing us.
The Act contains a critical flaw. It does not specify buffer zones around the Scenic Area. We now see why that's wrong. Cities and counties can establish buffers, but we must move quickly before more projects are built. Three more are proposed in the sightline between Dog Mountain and Biglow Canyon.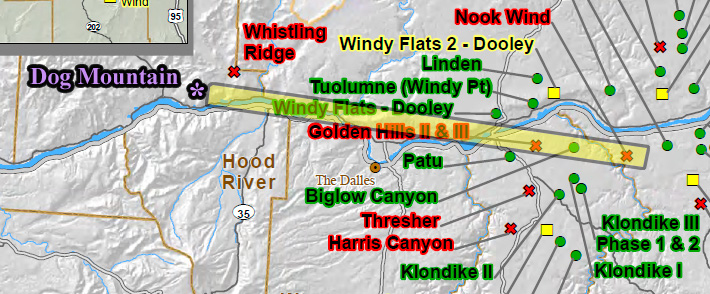 Golden Hills II/III and Nook Wind Projects in Dog Mountain Sightline
(red "x" indicates proposed project, green circle is an installed one)
Source: BPA Wind Map
The big issue with not having buffer zones is the sheer size of the turbines. Whistling Ridge, as seen in the map above, is just outside the Scenic Area boundary at one of its narrowest places and only 2-1/2 miles from the Columbia River. The turbines that would be located there are nearly twice the length of a 747 jumbo jet, and one-seventh the height of Dog Mountain itself: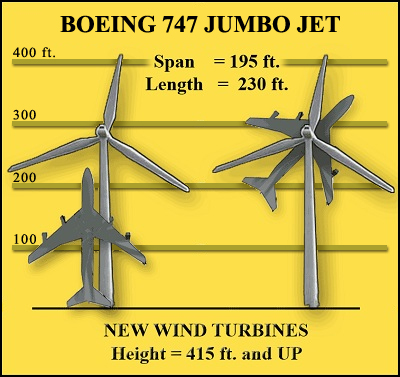 Wind Turbine Height Comparison
While these turbines would be illegal within the boundary, the Act as written allows them to be built a stone's throw away from it and at that close a distance to the Gorge they would be disastrous for recreation, tourism, and wildlife, some of the major reasons an estimated 8 million people visit the area each year to pump money into the local economy.


Columbia River Gorge Scenic Area Map (boundary in blue) showing Whistling Ridge Site
High-quality downloadable map PDF Link
The Commission needs to require state energy agencies to include the entire Gorge Scenic Area in the scenic impact simulation mapping that's part of the approval process. Today simulations are only done within a fixed distance from a turbine project, yet we are finding that impacts to the view, as in Dog Mountain's case, are happening far beyond the radius required in the public comment process. View simulations produce computer-generated maps that show the number of turbines visible at any geographic location. The environmental impact statement (Appendix B, page 18) for the Biglow Canyon/Klondike III project stated that view impacts in the Columbia Gorge National Scenic Area were "low to none." Clearly this was a gross understatement of the truth.
Unanticipated impacts to views in the Gorge from wind energy are out of control. There should never be surprises, such as Dog Mountain. Until we have a functioning regulatory system, we need to go slow on further development and get government officials and the public talking about ways to fix the problem before any new projects are built. With the Bonneville Power Administration already limiting wind generation during spring snowmelt to save salmon, we could put tax incentive dollars to better use through energy conservation programs and urban rooftop solar. These alternatives don't destroy pristine vistas and broaden our generation base beyond wind. The reason we haven't gone in this direction is that big investors are behind the wind industry and it's very profitable to ship the energy out of state. Those investors have the ear of our legislators in Oregon and Washington. Energy from urban solar and conservation primarily goes to the local market. It may not line investors' pockets and provide funding for political campaigns, but it does create jobs that are hard to export and reduces carbon emissions.
As wind power grows, local citizens need to think hard about who will pay for the infrastructure needed to manage wind energy on the grid and export it out of the region. It will likely be the ratepayers. It's a bad deal for all of us to lose the views we cherish while others benefit who don't care about what we're losing. That's poor policy, and it doesn't share the burden of cost fairly with those who are creating the electrical demand.
I think the best solution is to amend the Scenic Area Act to include buffer zones around the area that allow regulation of visual impacts, noise, and pollution coming from outside the area that affect it. Failing that, we need a process that allows the public to regulate new forms of impact that were not envisioned when the Act was created. A gridlocked Congress is unable to respond to fast-moving changes in the local environment. The Gorge Commission is stacked with members who favor development over conservation, and lack the vision and prescience needed to anticipate the unforeseen. This is the wisdom we've learned from the past 25 years of the Scenic Area Act. If we can't amend the Act, I call for the Gorge Commission to set up a local framework that could help with these decisions and gives conservation a voice in decision making. In my dreams, I see that future authority negotiating to relocate the 66 turbines in Oregon and Washington that are visible from Dog Mountain so that once again, we have a view we can be proud of.
More about my position on wind energy:
The Oregonian op-ed article is stimulating a lot of comment on wind energy, and due to the paper's 500-word limit I could not state my position on it. I think that wind energy is a useful way to reduce carbon emissions and I'm in favor of wind energy projects when they are properly located to minimize environmental impacts, including harm to wildlife such as birds and bats, noise, and visual disruption of scenery. Regarding the Columbia Gorge, they should not be located anywhere that they would disrupt the view from key viewing areas notable for the area's scenic resources and tourism potential. The region's tourism economy depends on preserving scenic views.

Video of vulture dying in turbine strike (courtesy American Bird Conservancy)
Link to their petition.
More comprehensive video from KQED about bird deaths in the Altamont Pass
The Whistling Ridge site is very close to the White Salmon river. Later in 2011, the Condit Dam will be removed and will open that river to salmon. Along with the salmon will come bald eagles, and they will be endangered by the turbines while soaring to search for fish. This site has many unfortunate parallels to California's Altamont Pass, where 1300 raptors are killed each year from turbine strikes. Lewis' Woodpecker also lives in the forest at this site and unlike most woodpeckers feeds on airborne insects. It flies within the rotor sweep area of the turbines while seeking insects and is a candidate for endangered-species listing by the Washington Department of Fish and Wildlife.
It is now (January 2013) well documented that bats die from wind turbines. While we don't know all the reasons they seem to be attracted to turbines, it is known that at one wind farm on the east coast of the US, an estimated 2,000 bats were killed in six weeks. (Horn et al. 2008 Journal of Wildlife Management 72:1 123-132. based on data from p. 129) That means wind energy is far from "green."
The Oregon Field Guide segment below describes bat deaths from wind power and has some chilling infrared night video showing how bats seem to be drawn to the turbine blades:
Link to: OPB segment "Wind and Bats" opens in new window
Projects such as Whistling Ridge are tests by business interests to see if they can get a project built just outside the scenic area boundary. If approved, more will follow because the Gorge is a windy place. But there are lots of windy places all over Oregon and Washington, and we need to decide which ones are appropriate for wind power development, and which ones should be protected to preserve the scenery. In reality, the part of the landscape that needs protection is very small compared to the total acreage available for wind development in our region. Keeping wind farms out of that area would not harm generation potential in any measurable way. And yes, I believe there are many other ways to reduce our energy needs besides building turbines. Conservation, efficiency, better public policy such as building codes that maximize roof orientation for solar panels, reducing population growth, and limits on exporting power outside the region are all things we need to investigate.
One change I'm particularly in favor of is to create incentives to allow the many acres of unused rooftops on warehouses, schools, and other buildings to be used for solar power generation. Today, many of these buildings are leased by their tenants and there is no incentive for the landowner to install solar power because the tenant is paying the utility bills. That situation needs to change. A locally owned public utility could install and maintain equipment in these locations and pay the landowner a fee for the power that's generated. I think that would be a far better use of government dollars than the current system of tax incentives that reward exporting power out of state while destroying our views.
The public tends to think that wind power is "green" and has no environmental impact. While it's cleaner than some forms of power generation, this belief is mistaken. Wind power has a number of problems. First, it's a distributed generation source. Turbine installations are spread over many thousands of acres, unlike conventional power plants which take up much less land. Coal and natural gas plants do pollute, but pollution controls are easier to implement because there is only one emissions location to treat. With wind power, there are feeder roads for maintenance that impact wildlife habitat and use oil to build and maintain. High-tension lines are needed to collect and distribute power. Second, when these lines stretch to remote states to supply export markets, hundreds of miles of right-of-way must be kept clear and that requires removing vegetation, often with the use of herbicides. Power-line corridors disrupt wildlife and create pathways for invasive species to thrive. In the Northwest, these corridors are full of Scotch Broom, Himalayan Blackberry, and other non-native species that are resistant to herbicides. Third, there is the impact on scenic views already mentioned. It's one thing to have a power plant on a few acres that mars the view in a small area. It is quite another to have turbines spread across miles of countryside. Fourth, there are well-documented impacts to birds and bats. Fifth, turbines must be lit at night for aviation safety and the lighting can disrupt nocturnal animals and migrating birds, besides being an eyesore. Effects on humans and animals due to turbine noise are being investigated, but it is too early to find conclusive evidence confirming or denying effects other than complaints from people living near turbines where it's obvious the noise will be annoying.
Wind power at its heart is no different from any other form of generation. It has impacts that need to be measured and controlled, and locations must be chosen carefully to manage those impacts.
A number of people have commented that private landowners have a right to do what they want with their property. That's a simplistic argument since property rights play a lesser role in decisions to build. It's taxpayer dollars that are providing the subsidy to build these projects. If public funding is helping to build wind farms, the public has a right to decide how and where those dollars get spent.
Making Conservation Dollars Work:
Why I left The Sierra Club after 28 years
Entry 3: January 14, 2011
In my last posting I said I'd be writing about some major changes in my conservation giving. Recently I sent a letter to the president of the Sierra Club informing him that I am ending 28 years of contributions to his organization. The text of the letter is reproduced below. It stands on its own to explain my reasons for leaving, but I also want to briefly summarize my thinking. I also sent another letter to a local mountaineering organization resigning my membership for similar reasons.
When I take hard-earned money and give it to a conservation group, I'm doing it for several reasons. I want to multiply my voice by acting in concert with others who share my views. I'm trusting the group to do good things with my funds. I value the group's expertise in making good decisions and prioritizing how much effort is spent on each one. Finally, I expect their efforts to have some tangible benefit in my own life and the enjoyment of nature I value so highly. What I hope is that everyone reading this thinks carefully about what their reasons are for donating, and holds organizations accountable for acting responsibly with their money.
In the Sierra Club's case, in 2008 the organization had $87 million in income according to the BBB's Wise Giving Report. When I look at how much money the Sierra Club is spending on its programs and the lack of scientific, fact-based reasoning behind their initiatives, I now realize that it's an incredible waste of the public's conservation dollars. The club has become so politically charged in their communications that it's no longer an environmental group, it's a political one. Much more good could be done if the money were spent more efficiently and in results-oriented ways.
After I wrote my letter, I found that the club wrote an article saying that Australia "appears to be reaping the climate chaos it has sown" in response to recent flooding in Queensland and drought across the country. Irresponsible statements such as this are not the way I want my money being spent, especially when so many have died in this catastrophe. While Australia bears some responsibility for climate change, any blame for the disaster has to lie proportionately with those doing the most polluting, and that would be China (#1) and the USA (#2); Australia ranks 16th in the global tally of carbon emissions. Clear thinking is a requirement for any organization deserving my contribution. We all need to work together to tackle climate change, and the Sierra Club is fond of pointing fingers rather than encouraging cooperation.
The money that went to those organizations is now going to Friends of the Columbia Gorge, Amphibian Ark, and the Royal Forest and Bird Protection Society of New Zealand.
Before joining any organization, check out its record with the BBB or Charity Navigator. Look at their website and publications and be certain your money will work hard for the environment. Reevaluate how they are doing every year, and don't be afraid to speak out when they're not meeting your requirements.
Update: As of April 5, 2011 Mr. Brune has not responded to my letter. I don't expect he will.
Now for my letter:
Michael Brune
The Sierra Club
85 Second Street, 2nd Floor
San Francisco, CA 94105
Dear Director Brune:
I'm 51 and have belonged to the Sierra Club since I was 22. Over that time I've given thousands of dollars to the club. This year, I'm ending my membership. It wasn't an easy decision, but I felt that given the amount I've contributed and the time I've been a member you deserved to hear about the reasons I've grown disappointed enough with the club's direction to leave it.
It would be wrong to look at my decision as rooted in the adage that people grow more conservative as they age. If anything, I have become more of an environmentalist as I've grown older. What has changed about me is that I've become a lot savvier about how to advocate for change, and the club hasn't kept pace, despite being a much older organization than I am. I'm going to take my money and put it where it can do the most good for the environment, and that's not with the Sierra Club.
When I joined the club, I did it to add my voice to a larger one advocating for protection of the wilderness and a healthy environment, much as John Muir wrote. What I found happened in the intervening years is that the club has taken my money and devoted much of it to things that have little or no bearing on those core principles. It makes sweeping statements that have no basis in fact as if they are Gospel. The club's website proudly claims that John Muir appears on the back of the California quarter. How can that possibly mean anything tangible about the club's integrity or effectiveness in modern times? It's not an award from impartial judges, and Muir isn't alive to comment.
I've watched as the club has grown much larger and its staff have become incestuous, taking on a purpose of their own that feeds on their own thinking, rather than listening to member concerns and ensuring that larger goals align with those concerns while staying true to core principles. Organizations can multiply the power of their members, but at other times they give into the temptation to create new initiatives that members didn't want or need. As an example, the Sierra Club sent me an email today about how to choose toothpaste with the smallest carbon footprint. What a waste of my membership dollars that was. My choice of toothpaste isn't your business; it's between my dentist and me. Fire the staffer who's writing about green toothpaste choices and use the person's salary to hire a conservation lobbyist or do television advertising; that's what the Sierra Club should be doing for its members.
Branching out into areas that aren't key to the club's core principles reduces the power you can wield through staying focused and putting more dollars to work where they can do the most good. Every dollar you receive should go to influencing the public or government officials, or to programs that actually clean up the environment or preserve natural areas. There is a huge expense going toward sending information back to members that we really don't care about. I want my dollars directed toward changing government policy and educating the public who thinks we are a bunch of granola-heads, not going to messages to membership on how to be green to the point where one can't live a moment without guilt about our choices. Your goals will be achieved only when the public sees that the club is looking out for their welfare and therefore responds with support. Today, the club is making enemies from people who could be your best supporters.
Let me give you an example of an outstanding organization I belong to that has its priorities straight and is making a real difference. It's the Royal Forest and Bird Protection Society of New Zealand (http://www.forestandbird.org.nz/). I found out about it on a trip I took to New Zealand a few years ago, and joined immediately. They have a tough job, but they are amazingly effective in protecting biodiversity, gaining public support, and implementing programs that make a difference on the ground rather than waste dollars to fuel useless political infighting. This year I took the money I was going to send to the Sierra Club and sent it to them. Some great domestic organizations are The Nature Conservancy, Friends of the Columbia Gorge, Beyond Pesticides, and Amphibian Ark. They also deserve my money because it goes to work with an efficiency that the Sierra Club can only dream about.
Another big concern of mine is the club's lack of attention to complexity when it communicates to the public and decision makers about environmental issues. Two major initiatives come to mind that illustrate this problem. One is the "Beyond Oil" campaign. The second one is the club's emphasis on wind power as a green power solution. On both of these topics the club has fallen into the trap of becoming a polar opposite of the conservative community, and articulating a solution that grates on the public as being environmentally extreme.
What I expect to see from the club in response to disasters such as the BP oil spill is a program of practical, realistic ideas to reduce our dependence on oil, not the idea that we can totally eliminate its use. There is no way we can do that any time soon given the number of automobiles, buses, and trucks in service worldwide. We won't move this concept from a dream to reality without solving many technical and political problems. Americans simply won't accept the sacrifices that would come with eliminating petroleum use in 20 years. That's a given. What the public needs to see from the club is ideas that will reduce oil use without creating excessive inconvenience for the public or business, along with increased funding for research into the most important advances we need to get there, including biofuels and large-scale energy storage to smooth out the intermittent power from wind and solar energy.
Automobile use can be made much more efficient by batching up small errands into a larger trip, and by installing equipment that monitors traffic on roads and links to navigation systems in cars to show the fastest route to a destination that's updated in real time. That use of technology isn't even on the radar in the club's thinking. People need to drive; what the club can do is show them ways to do it smartly so we accomplish what we need and gain something useful such as more time by being more efficient, instead of the philosophy that the only way to reduce oil use is to make driving inconvenient, more expensive, and hit people in the pocketbook (not a great way to curry favor with the public.) A traffic-monitoring network would create jobs nationwide as well as provide great benefits for everyone in terms of saving valuable time.
The club pushes bicycling as a significant way to reduce energy use but again the idea lacks practicality. Biking sounds great until you're seriously injured from an accident. It's not wise to bike in bad weather or at night, and bikes don't work well for people who must travel long distances, take along the family, or need to haul large items. Try asking someone who lives in rural Kansas to take a bike to Home Depot to buy lumber. When the club's ideas draw laughter from anyone with common sense, you know they are in need of revision. Cycling has a high priority in the club because many of the staff are young people living the myth of immortality who haven't had enough time on the road to see how dangerous cycling actually is, especially in urban areas. They also don't have families and don't understand why the public finds cars to be a much more practical way to meet their needs. Don't get me wrong; I think cycling is great exercise and fun if done on safe streets, but it's not a solution that will get us off of oil. It's a misguided and confusing message that needs to stop. This example shows that there is a demographic mismatch between those who make up the club's staff and the public they're trying to influence. True progress is only possible when the club makes an effort to understand their audience.
The club has fallen in love with wind power as a solution to our energy needs but hasn't come to grips yet with its drawbacks. Wind turbines as designed today kill birds and bats, are an eyesore, and have many deleterious effects on humans as well as animals due to the noise and pressure fluctuations that happen near them. They require construction of many miles of high-voltage power lines and often the power from installations is sold to distant regions while local people must deal with the negative impacts. Faraway corporations make the profit from the wind farms and very little money stays in the local community. It may be possible to solve these problems, but the jury's still out and the club shouldn't be promoting them as a panacea unless it's also strongly advocating for policies that solve the drawbacks of wind power.
The club has also lost its impartiality and hasn't been critical enough of the Obama administration in a number of areas. Since most club staffers and most members are Democrats, there is a culture that emphasizes partisanship over impartial advocacy for the environment regardless of the party in power in Washington. The club should be very vocal when it comes to the administration's cover-ups about the BP oil spill, denying scientists access to the site who have valid reasons to gather data about the spill's impact. It should also be quite critical of the administration's refusal to list endangered species such as the sage grouse simply because there is insufficient funding. The ESA doesn't give government the right to choose which species are endangered based on funding. If populations are low and habitats are threatened, the species deserves to be listed. The club needs to put partisanship aside and set an example for the public that the environment is what counts first and foremost, not the party affiliation of people in it. Again, you send a confused and hypocritical message to the public when it's wrong for Republicans to spoil the environment, but Democrats get a pass because they're the lesser of two evils.
The club relies too heavily on ideology in place of science to guide its decisions and initiatives. In the area of climate change a cap-and-trade system is a great idea, but implementing it or a carbon tax or expecting nations to agree on binding international treaties is not likely to happen in the next 20 years, especially with the new Congress. Given this reality we need practical approaches that don't require federal legislation to succeed. There are many other ways to achieve reduced emissions that are not as politically volatile as the club's approach. One area where the club could make dramatic progress is in championing the idea of installing solar power generation on rooftops, especially in places where current policy limits financial feasibility. If policy changed, significant generation capacity could open up that would not have the environmental impacts that wind farms do.
For instance, schools, warehouses, and health clubs have large roof areas, but schools are closed in the best months for solar power and warehouses and health clubs are typically in leased buildings, where the landowner has no incentive to install solar generation because the tenant is paying the power bills. If a public utility were to install, own, and maintain the equipment, these places could be immediately put to use in generating power. Solutions such as this are how we will make progress on reducing carbon emissions, not by putting a tax on carbon. Expecting Congress to solve our environmental problems is not only unlikely, it's a waste of good money to even try. It's better to work at a local level where pilot programs are easier to create and once they succeed are likely to spread nationwide.
Along similar lines, while the club has emphasized national campaigns such as "Beyond Oil," and branched out into unnecessary areas such as toothpaste choices, it has in the process lost touch with important local issues. Two examples come from the Portland, Oregon area where I live. In our region we have a large off-reservation casino proposal in the Columbia Gorge National Scenic Area. This casino would destroy scenic views from roads and trails, contribute to global warming through lengthy vehicle trips from the city of Portland where most patrons live, harm salmon and plant habitat, create traffic congestion and light pollution at night, and increase the fire danger in nearby wilderness. When I contacted the local chapter about opposing this project, they didn't even respond to my email. After that incident I had to seriously question why I belonged to an organization that didn't do anything substantive to oppose a project with this kind of environmental impact.
Another time, I learned that Oregon has a hunting season for the sage grouse where on average 900 birds are killed annually. When the Obama administration refused to list this bird as an endangered species purely because it didn't have the money in the budget to handle the cost of doing so, I contacted the local chapter and asked them to cry foul. They refused to do anything about it even though there were opportunities to get press articles published and influence our governor and legislators. The reason given was that the club had important initiatives in the early stages at the Oregon Department of Fish and Wildlife, and they didn't want to do anything that would "piss off" the people there and possibly endanger the success of those projects. Now why would I want to give money to a club that purports to be an advocate for conservation but won't even go to bat for a species that is endangered and has a legal hunting season in place, just to save face with a few state officials? Mr. Brune, where are your principles when they are needed to protect these helpless birds?
When I look at the largest impact the environment has had on me and my family, it is in the area of disease. Parkinson's disease and two kinds of cancer have touched us. There is growing evidence that chemical contamination plays a role in these diseases. Look at your web site; toxics reduction is buried in the "more programs" section while Beyond Coal and Clean Energy get top billing. The club's priorities place toxics much lower than global warming and oil dependence, and it's a major reason why my money is better spent elsewhere. It's not that I don't care about those causes or think them unimportant, but I know that making progress on controlling dangerous chemicals in food, air, and water is something we can achieve far more easily than reductions in carbon emissions and petroleum use. Rather than making noise for its own sake, the club needs to do a better job understanding the cost/benefit relationships for environmental initiatives and put the money where it's going to accomplish the most change. The public is far more willing to support initiatives that improve health than it is to give up their cars, pay more for electricity or fuel, or make time-consuming changes to live a zero-waste lifestyle. I expect the club to have a full-court press on requiring disclosure and regulation of toxic chemicals in consumer products, and to rally the public to the cause long before it tries to address ending our use of petroleum. The priorities here are completely reversed.
This is a lot to say, but it needs to be said. I hope someday that I'll be able to rejoin the Sierra Club because it's become a more effective force in putting conservation dollars to work. I'll be watching to see what happens.
Sincerely,
Chris Carvalho
In Business For The Wilderness
Entry 2: July 27, 2010
In the 1980's I took a trip to the Rogue River to get acquainted with Oregon after moving here in 1981. I took some day hikes, and did some fishing and car camping. One afternoon I gave myself a nasty cut on the thumb while fishing. I bandaged it up, but was concerned if I needed medical attention. At the campground I met a wonderful couple; the husband was retired from the Forest Service and the wife was a nurse. She looked at the cut and said it would be OK. Later that evening we had a conversation that to this day shapes my life.
The talk turned to protecting the outdoors and the retired ranger told me, "In my history with the Forest Service I've seen that corporations view the wilderness as a resource to be exploited for profit. They realize that there is a cost to secure that profit, so they set aside significant money to aid them in getting the access they need. It's simply a business expense to them.
"The problem with environmentalists is that they don't see the value in preservation. They expect the land and the recreational services such as trails and campgrounds to be provided for free. When you see as I have the amount of money being spent by corporate interests to develop wild places for profit, the environmentalists don't have a chance unless they change their thinking to realize that this is really a game of competing dollars, with the winner spending the most money to influence government.
"Every time you hike a trail, visit a campground, or drive to a scenic vista, you need to calculate the value of that trip and give that money to an organization you trust that will protect what you enjoyed."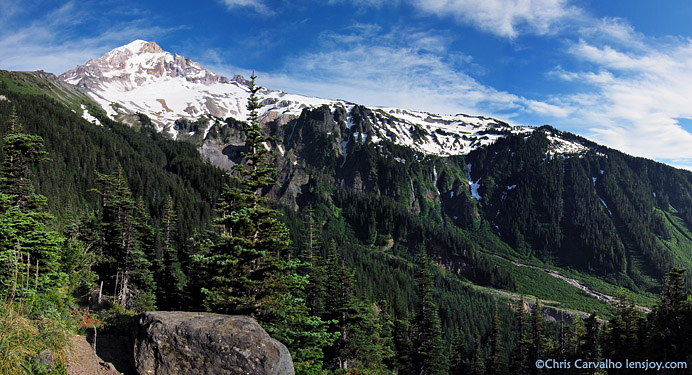 Oregon's Mt. Hood and the Muddy Fork of the Sandy River, McNeil Point Trail. How much is this view worth to you?
As soon as I returned from the trip, I joined the Sierra Club and The Nature Conservancy. Since that time, I've donated a lot of money to various organizations. Some have done well with it, others not so well. I plan to make some major changes in my giving soon and I'll write about that. I will say for now that The Nature Conservancy is still doing great work and deserves your support.
In the 20-plus years since that memorable evening, I've been drawn back to the notion that the lack of attention to preserving the natural world comes down to the simple fact that people who enjoy Nature don't put their money or time where it can make a difference. Every night, thousands of hikers post photographs online in web forums hoping to get a "frequent poster" star rating. If they took that time and wrote letters to elected officials instead, something truly worthwhile might result.
We all need to be "In Business For The Wilderness." Big Oil, Big Energy, Big Mining, and Big Housing all know the value of developing wild lands to their future profits. The conservation community needs to understand the value those lands have to their own future and the planet's well being, and start paying that value to influence those in power who make the decisions.
The Windmills Are Coming
Entry 1: June 6, 2010
The Columbia Gorge faces many development threats. This one wasn't even on the radar screen ten years ago. But in the past few years as I hike and even drive the roads something is slowly creeping into my conscious perception, bit by bit. As I drive east starting near Hood River, in the far distance there's now a white jagged appearance to the horizon. At the top of the McCall Point trail on any clear day the wind turbines are visible. Eastward from there, on just about any high peak one can see a forest of white pinwheels is growing.

The shot above was taken from the top of Stacker Butte, also called Columbia Hills State Park. It is just a small piece of a much larger panorama. I am providing the full image so you can appreciate the impact. Remember that it is copyrighted, so any publication or non-educational use must be licensed by contacting me. To download it, click here. This is a 1.7 MB file, so it may take some time to load. The view is toward the east with the farms of the Klickitat River valley in the foreground.

Once you open it, you will see thousands of turbines. My camera isn't good enough to show the most distant ones, but if you look closely they extend almost to the left (north) and right (south) edges of the view. They are getting closer to the edge of the Scenic Area boundary. In fact, a project called Whistling Ridge is in the approval process right now just north of Hood River on the Washington side of the Gorge, and it will be on the edge of the boundary and visible from Nestor Peak and Mitchell Point. It is a galling insult to the spirit of the Scenic Area Act to place a wind energy project a stone's throw from the regional boundary and call it compliant with the Act.

Now I'm a big fan of renewable energy, but something about this march of the turbines reminds me of what happened when The Dalles Dam was built and drowned Celilo Falls. We didn't appreciate what we lost at the time, and now it's unlikely we'll ever get the falls or the salmon back for decades to come, maybe never. Early research is documenting how these turbines kill birds and bats (1), and it's obvious what they do to the view. They also create noise pollution that aggravates nearby residents as well as jams the communication calls birds and other creatures use for breeding, finding food, and predator avoidance. We've got to stop building them so close to the Scenic Area until we know more about their long-term effects, and also come to an understanding about how much visual impact we should tolerate. In the meantime, we can look at something proven to meet our growing demand for energy that doesn't have any negative impacts. It's called conservation.

Few of us realize the rapid pace of this change. Soon it won't be possible to go on a hike to a viewpoint anywhere in the eastern end of the Gorge and see a pristine east horizon. Most of it is already gone. The view of the horizon was something I took for granted. Today I realized it's been taken from us and might never come back.

To comment on the Whistling Ridge wind energy project, go to http://www.efsec.wa.gov/whistling%20ridge.shtml
The project contact person is currently Stephen Posner, his information is located at the very bottom of the page.

Your comments will likely carry more weight if submitted to the Bonneville Power Administration (BPA). The Washington EFSEC typically defers to the wishes of rural counties, which are hungry for the tax dollars these projects provide. The counties have a history of ignoring the environmental impact when corporations wave money at their officials.

Comments to the BPA can be submitted at http://www.bpa.gov/applications/publiccomments/OpenCommentListing.aspx
Scroll the page down to find the section on the Whistling Ridge Energy Project and click the "Make Comment" button.

(1) Bernton, Hal. "Scientists study wind-farm risks to birds." The Seattle Times. Seattle, 2010. Web. 6 June 2010 <http://seattletimes.nwsource.com/html/localnews/2012048835_windbirds07m.html>.